As prestigious as the
thea-tah
may be, for shallow people such as myself, television is where it's at; where else, for instance, could I have discovered the genius that is Nigel Hawthorne if he'd only ever deigned to tread the boards? Especially since I only ever get to the
National Theatre
when I visit London, which is, uh,
never
. (Not that I'm bitter about
that
either. Much.)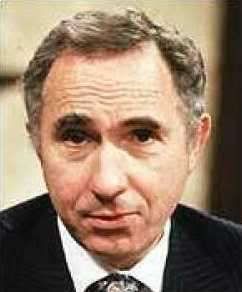 A n y w a y... Born on this day in 1929, Hawthorne's portrayal of
Sir Humphrey Appleby
- the quintessential civil servant - in the timeless
sitcom
Yes Minister
just goes to show you what can happen when real acting talent and the reach of mass media collide; wrapping his honeyed voice around mouthfuls of bureaucratic gobbledygook, Hawthorne's portrayal was equal parts charm and smarm, and left audiences absolutely certain of who's really in charge of the government*. Thanks to brilliant scripts, a strong ensemble, and his own gifts, both he and the show became internationally renowned.
In later years he continued to tackle meaty dramatic roles, playing such historical figures as
George, Duke of Clarence
, in the stylish
film version
of
Richard III
(1995), as well as
George III
in both the
stage
and
film
versions of
Alan Bennett
's seriocomic play
The Madness of King George
(onscreen opposite
Helen Mirren
, playing yet another Queen, in this case
Charlotte
). He also played
Martin Van Buren
in
Steven Spielberg
's ambitious epic
Amistad
(1997).
Always intensely private, in the last years of his life he was outed; despite his discomfort with the way it was done, he proceeded to give interviews on the subject, and even attended the
67th Annual
Academy Awards
in 1995 with his partner
Trevor Bentham
(only to lose the Oscar for
The Madness of King George
). Awarded the
CBE
in 1987, he became Sir Nigel in 1999. Hawthorne died of a heart attack in December 2001, while battling pancreatic cancer; his memoirs, published posthumously, are entitled
Straight Face
.
*The good news is, it's not the politicians; the bad news is, it's not the politicians.
*
share on:
facebook