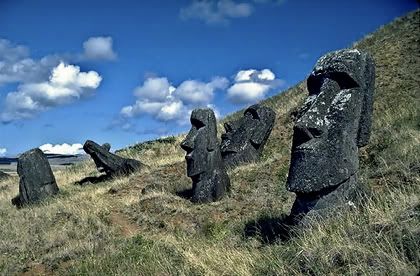 [

Jacob Roggeveen had been discharged with finding

Terra Australis

at the helm of a three-ship convoy - consisting of the Arend, the Thienhoven, and Afrikaansche Galey - when he accidentally encountered an island known to its residents as Rapa Nui on Easter Sunday 1722; the ships were greeted by as many as 3,000 natives and some mysterious sculptures known as

moai

...

]
1566
- 200 Dutch noblemen, led by
Hendrik van Brederode
, forced their way into the presence of the country's regent -
Margaret of Parma
- and presented her with their Petition of Compromise, denouncing the Inquisition in the Netherlands; the Inquisition was subsequently suspended there and a delegation was sent to Spain to petition
Philip II
, although van Brederode himself was banished by the governor, the ruthless
Duke of Alba
.
1614
-
Pocahontas
married English colonist
John Rolfe
at
Henricus
, a plantation up river from
Jamestown Settlement
, after which they settled on their own property at
Varina Farms
.
1621
- Captain
Christopher Jones
left the
Plymouth Colony
aboard the
Mayflower
and returned to England.
1722
- The Dutch explorer
Jacob Roggeveen
became the first European to visit
Easter Island
.
1792
- The presidential veto power was first exercised when President
George Washington
vetoed the
Apportionment Bill
(on the grounds that it was unconstitutional); the Bill was designed to apportion representatives among the several states following a census (in this instance, that of 1790). Congress overrode this veto and the bill subsequently passed.
1804
- The
High Possil Meteorite
- Scotland's first recorded meteorite, and one of only four in that country's history - fell in
High Possil
, to the north of Glasgow (where it now resides, in the collection of the
Hunterian Museum
).
1818
- At the
Battle of Maipú
, Chile's independence movement - led by
Bernardo O'Higgins
and
José de San Martín
- won a decisive victory over Spain, leaving 2,000 Spanish and 1,000 Chilean patriots dead.
1847
-
Birkenhead Park
- Britain's first public civic park - was opened in (of all places) Birkenhead; designed by
Joseph Paxton
, it would later influence
Frederick Law Olmsted
's work on New York's
Central Park
.
1879
- Chile declared war on Bolivia and Peru, starting the
War of the Pacific
.
1904
- The first international
rugby league
match was played between
England
and an Other Nationalities team (comprised of Welsh & Scottish players) in Wigan's
Central Park
.
1932
- In the
Dominion of Newfoundland
10,000 rioters unhappy with the government of Prime Minister Sir
Richard Squires
seized the
Colonial Building
; he only barely escaped with his life. As a result of the riot the
Commission of Government
was established, returning the colony to unelected leadership subordinate to London, and eventually leading to the country's admission into the
Canadian Confederation
in
March 1949
.
1949
-
Fireside Theater
had its television debut on
NBC
.
1951
- Americans
Julius and Ethel Rosenberg
were sentenced to death by Judge
Irving Kaufman
for engaging in espionage on behalf of the Soviet Union; their trial, which began on
March 6th
, had already led to their
March 29th
conviction.
1955
- Sir
Winston Churchill
resigned
as British Prime Minister, citing ill-health; unbeknownst to the public, Churchill had suffered a stroke.
1958
-
Ripple Rock
, an underwater threat to navigation in British Columbia's
Seymour Narrows
, was destroyed in one of the largest non-nuclear controlled explosions to date.
1976
- During the
Qingming Festival
- China's annual day of mourning, held in
Tiananmen Square
, which was that year dominated by mourning for the country's recently deceased Premier
Zhou Enlai
- the removal of the usual displays of mourning evoked protests by members of the April Fifth Movement; later deemed 'counter-revolutionary' and resulting in the house arrest of Vice Premier
Deng Xiaoping
ordered by the
Gang of Four
, the
Tiananmen Incident
has since been considered a display of patriotism.
1986
- Three people were
killed
in the
bombing
of the
La Belle Discotheque
in West Berlin, two of whom were American servicemen - Kenneth T. Ford and James E. Goins - in addition to a Turkish woman, Nermin Hannay; in retaliation US President
Ronald Reagan
ordered
Operation El Dorado Canyon
against Libya, who it was believed ordered the attack.
1992
-President
Alberto Fujimori
used military force to
dissolve the Peruvian Congress
.
1998
- When Japan's
Akashi-Kaikyo Bridge
- linking
Shikoku
with
Honshū
at a cost of about US$3.8 billion - opened to traffic, it became the longest suspension bridge in the world, with a span of 1,991 m (6,529 ft).
*
share on:
facebook