Over the years numerous men claimed that they were or were purported to be the mythical fifth member of noted four-piece beat combo
The Beatles
:
Stuart Sutcliffe
,
Pete Best
,
George Martin
,
Derek Taylor
and
Neil Aspinall
are among them. Still, no less a figure than
Paul McCartney
himself has said: 'If anyone was the
Fifth Beatle
, it was Brian.' So there you go...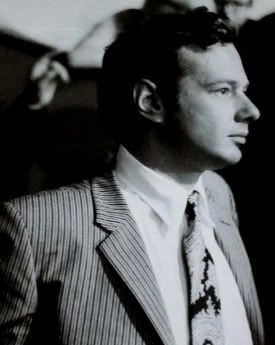 Born on this day in 1934 in
Liverpool
, Brian Epstein was gifted with two strikes against him (being both Jewish and gay) it was more or less inevitable he would end up in show business, since in those days allegedly respectable people would freely associate with neither, but since actors and their ilk were considered far from respectable (especially amongst themselves) he could easily excel in that milieu without much prejudice.
In
November 1961
, Epstein - who'd dropped out of
Royal Academy of Dramatic Art
(RADA) after three terms - attended a gig at Liverpool's
Cavern Club
; there he saw a band who'd been generating a great deal of buzz (especially with the staff of
Bill Harry
's
Mersey Beat
magazine) with a fresh sound, each member of which was possessed of immense personal charm, who continued to impress him backstage as they had on it. A month later he proposed managing them, and despite the fact that he had no experience in artist management within six weeks the contracts were signed.
The Beatles went on to enjoy a modicum of success, in large part due to the wheeling and dealing of Brian Epstein, who began by working with the band's wardrobe. He later engineered their cracking of the US market - unleashing the so-called
British Invasion
there in
February 1964
with their appearance on
The Ed Sullivan Show
- all of which went fairly well until the band's outspokenness started to draw controversy. Following the band's last concert at San Francisco's
Candlestick Park
in
August 1966
and their withdrawal from touring, Epstein's influence over the band waned. Epstein
died of a drug overdose
in
August 1967
; whether this was an accident or not has been the subject of considerable controversy ever since.
*
share on:
facebook