Funny lady Cheri Oteri hit on the formula for success early on in her tenure at
Saturday Night Live
: some spot-on impressions (
Barbara Walters
,
Mariah Carey
,
Robin Byrd
and
Judge Judy
), a few indelible original characters (Collette 'drug lady' Reardon and Nadeen - 'simmer down now!'), a winning personality, and the willingness to put them all across fearlessly.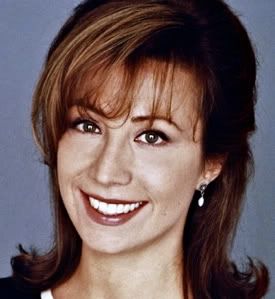 Oteri was fortunate to be joined in the cast by
Molly Shannon
and
Ana Gasteyer
, but she did most of her funniest work opposite
Will Ferrell
. Whether as Arianna (one half of
The Spartan Cheerleaders
) or vapid morning show hostess Cass Van Rye, Oteri benefited at least as much as Gasteyer did from her chemistry with Ferrell.
Despite notable guest appearances in film and on television since leaving
SNL
in 2000, Oteri has yet to find herself a more permanent roost; Hollywood rumour has it that she's been developing a sitcom idea with
J.J. Abrams
.
Here's hoping it makes more sense than
Lost
.
It may just be that Oteri's decided to take some time off following the murder of her father in April 2008 by his friend and sometime roommate, country music songwriter
Richard Fagan
*.
In the meantime, why not enjoy the best of her work from
SNL on DVD
?
*Google News had no mention of the crime, despite its celebrity connection. What is this world coming to? After a little more sleuthing the story turned up on the blog You Thought So! and in a Nashville Police Department media release...
*
share on:
facebook