That a person's life story later becomes a cautionary tale is seldom much consolation to the one who's had to live it; I doubt
Frances Farmer
took much solace in the fact that the morass of mental illness she was forced to slog through may have saved others from the same stigma she suffered - anymore than
Evelyn Keyes
or
Carole Landis
did - but the fact remains that it did.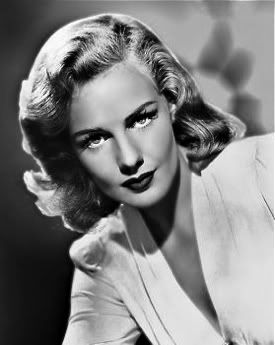 Born in Seattle on this day in 1913, Farmer was a precocious child with a pronounced rebellious streak and an instinctive feel for leftist politics in an era when none of these things was likely to win her many friends. While still in high school in 1931 she won $100 for an essay she wrote called
God Dies
; the reaction to her essay, when it was finally published in
Scholastic Magazine
, greatly dismayed Farmer - 'for the first time I found how stupid people could be' she later said. Yet it was nothing compared to the crap she was fated to take at the hands of studio executives, critics, and the movie-going public.
Having graduated from
West Seattle High School
to the
University of Washington
, Farmer won another contest in 1935 - this time from the leftist newspaper
The Voice of Action
; first prize this time was a free trip to the Soviet Union. Returning to the US via New York City, it was Farmer's intention to pursue a stage career. Instead she took a screen test, and was offered a 7-year contract by Paramount Pictures talent scout Oscar Serlin.
In short order she was cast in a pair of popular B-movies, married actor
Leif Erickson
, starred opposite
Bing Crosby
, and made a sensation in the
1936 film
Come and Get It
, based on the novel by
Edna Ferber
; Farmer's unhappiness with the shallowness of Hollywood manifested itself quite quickly, a situation which wasn't helped by her worsening alcoholism. She was first arrested in October 1942, and did not go peaceably; from there things quite quickly went from bad to worse to Hell...
Frances Farmer's mental and emotional deterioration was skillfully and sensitively portrayed by
Jessica Lange
in the
1982 film
Frances
. Farmer's undergoing surgery for a lobotomy was later admitted to be 'fictionalized'; despite the fact that she did undergo various radical treatments while committed to
Western State Hospital
, including
electro-convulsive
and
insulin shock therapy
, there's no proof she was ever lobotomized.
Although Farmer attempted a comeback in 1957, the public was more interested in her as a former (and potentially current) nutcase and curiosity than an actress; an appearance on
This Is Your Life
is as awkward an experience for the viewer as it must have been for Farmer herself. She died of cancer in August 1970, at the age of 56; in the years since she has been memorialized in the
Nirvana
song
Frances Farmer Will Have Her Revenge On Seattle
, from their
1993 album
In Utero
, among others.
*
share on:
facebook