During an amazing nine-year run on NBC's
Night Court
- from 1984 to 1992 - Richard Moll's considerable presence could be counted on to liven up what was already a pretty lively proceeding; as bailiff Bull Shannon he used all of his six feet eight-and-a-half inches to intimidate suspects, but fortunately the show's writers decided to dispense with stereotypes when imbuing his character with hidden depths and gentle wisdom...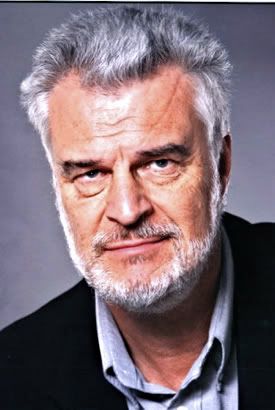 Born in Pasadena on this day in 1943, Moll's first film role was the 1981 film
Hard Country
, which starred
Jan-Michael Vincent
and
Kim Basinger
; the same year he voiced a beat poet in
Ralph Bakshi
's rotoscoped cult classic
American Pop
. For sheer camp appeal, though, neither of them had anything on his 1983 appearance in
Metalstorm: The Destruction of Jared-Syn
.
It was his role in
Night Court
, however, that made Richard Moll a household name; for sheer visual amusement, nothing could beat his sparring with gravelly-voiced co-star
Selma Diamond
, who was seemingly as short as he is tall. Moll later relied on a similar effect when he co-hosted
Friday Night Videos
opposite
ALF
, making for one of the more indelible viewing experiences of my teenage years.
After
Night Court
went off the air, Moll returned to the life of the itinerant actor he had known before it, albeit now with an, er,
even
higher
profile* and the sweet, sweet residuals that make the life of the working actor all the more bearable. Among his notable recent film roles was in the
1999 film
But I'm a Cheerleader
, in which he played against type as a gay man who, with
Wesley Mann
(as his partner) helps kids escape from an anti-gay re-education camp. Moll also works extensively as voice-over talent in the burgeoning field of animation.
*Higher than 6'8.5"?


*



share on:
facebook