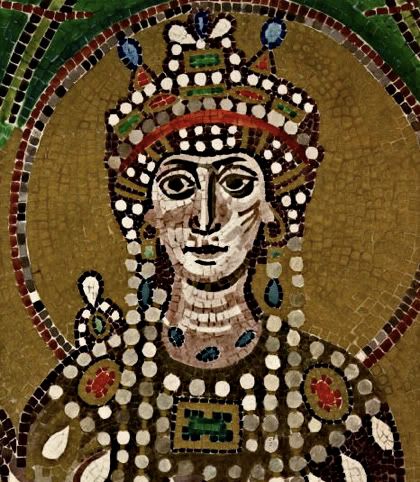 [Empress Theodora's sudden illness gave rise to a slew of
conspiracy theories about poisoning, despite the
fact that she was by then over seventy.]
1056
-
Byzantine Empress
Theodora
suddenly fell ill; she died just as suddenly a few days later without any legitimate heirs, thus ending the
Macedonian dynasty
.
1422
-
Henry VI
became King of England at the age of 9 months; needless to say, his reign didn't go so well. He remains the only monarch of that country to have been restored after being deposed.
1803
-
Lewis and Clark
began their expedition with the Corps of Discovery - to explore the lands of the
Louisiana Purchase
with a $2,500 endowment from President
Thomas Jefferson
- when they departed
Pittsburgh
shortly after 11 o'clock in the morning.
1869
-
Mary Ward
, an Irish scientist who worked with microscopes and telescopes, became the first person to die in an automobile accident, when she was run over by a steam-powered prototype built by her cousins.
1876
-
Ottoman sultan
Murat V
was deposed and succeeded by his brother
Abd-ul-Hamid II
.
1886
- An earthquake since rated at between 6.5 and 7.5 on the Richter Scale killed more than 100 in
Charleston, South Carolina
.
1888
-
Mary Ann 'Polly' Nichols
became the first victim of
Jack the Ripper
.
1907
- Count
Alexander Izvolsky
and Sir
Arthur Nicolson
signed the
St. Petersburg Convention
, which resulted in the
Triple Entente
alliance between the UK, France, and Russia.
1939
- Nazi Germany mounted a staged
attack on Gleiwitz radio station
, giving them an excuse to attack Poland the following day, starting World War II in Europe.
1943
- The
USS Harmon
- the first US Navy ship honouring an African-American - was commissioned; it was named for Leonard Roy Harmon, a mess attendant who was a hero at the
Battle of Guadalcanal
.
1945
- The
Liberal Party of Australia
was founded by
Robert Menzies
.
1957
- The
Federation of Malaya
gained its independence from the United Kingdom.
1962
-
Trinidad and Tobago
became independent; although the country became a republic in 1976, it remains within the
Commonwealth
.
1963
-
Walter Cronkite
made his debut as the anchor of the
CBS Evening News
, a job which he held until 1981.
1978
- William and
Emily Harris
, who together founded the
Symbionese Liberation Army
, pleaded guilty to the
1974 kidnapping
of newspaper heiress
Patty Hearst
.
1989
- Buckingham Palace
announced the separation
of the Queen's only daughter
The Princess Royal
from her husband of 16 years, Captain
Mark Phillips
; their divorce would become final in
April 1992
, although the couple appear to remain on good terms.
1991
-
Kyrgyzstan
seceded from the Soviet Union.
1998
- North Korea reportedly launched
Kwangmyongsong
, its first
satellite; the majority of the international community has called bullshit on this claim
.
2005
- A
stampede
on
Al-Aaimmah Bridge
in Baghdad killed 1,199 people.
*
share on:
facebook