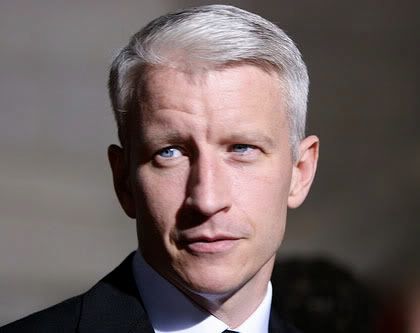 [The last thing I recall was typing in the words 'Cooper's' and 'briefs', at which point my head started to swim... When I was finally revived by my assistant Pandora I recalled a story making the rounds in April 2007 that, while at the gym, silver fox Anderson Cooper was spied showering in his. Never before in the history of the

Pop Culture Institute

has such an egregiously spurious connection been made to justify the posting of a picture!

]
1520
-
Sten Sture the Younger
, the
Regent of Sweden
under the
Kalmar Union
, was mortally wounded at the
Battle of Bogesund
; he died a couple of weeks later, on February 5th.
1607
- Manila's
San Agustin Church
was officially completed; it is currently the oldest church in the Philippines.
1795
- The
Batavian Republic
was proclaimed in the Holland, ending the
Republic of the Seven United Netherlands
.
1817
- An army of 5,423 soldiers, led by General
José de San Martín
,
crossed the Andes
from Argentina to liberate Chile and then Peru.
1853
-
Giuseppe Verdi
's opera
Il Trovatore
made its debut at the
Teatro Apollo
in Rome.
1893
-
Henrik Ibsen
's
play
The Master Builder
premiered in Berlin.
1917
- German Foreign Secretary
Arthur Zimmermann
sent the
Zimmermann Telegram
to Mexico, proposing a German-Mexican alliance against the United States.
1935
-
Cooper's
sold their first-ever pair of men's
brief
s.
1937
-
Howard Hughes
set a new record for flying from Los Angeles to New York - 7 hours, 28 minutes and 25 seconds - in his
H-1 Racer
.
1953
- An estimated 68% of the televisions in the United States were tuned in to see
Lucy
give birth to
Little Ricky
on
I Love Lucy
.
1966
-
Indira Gandhi
was
elected
Prime Minister of India
.
1969
- Student activist
Jan Palach
died, three days after setting himself on fire in Prague's
Wenceslas Square
to protest the invasion of Czechoslovakia by the Soviet Union in 1968; Palach's funeral turned into another major protest.
1975
- State-owned and publicly funded radio station
Triple J
began broadcasting in Sydney, Australia.
1977
- US President
Gerald Ford
pardoned
Iva Toguri-D'Aquino
, one of about twenty women who during World War II broadcast as
Tokyo Rose
.
1981
- US and Iranian officials signed an agreement known as the
Algiers Accords
which brought about the end of the
Iran Hostage Crisis
with the release of 52 American hostages after 14 months of captivity. Iran decided to wait a day, though, so as to coincide the release with the inauguration of President
Ronald Reagan
, who later let the credit for it be attributed to him even though, as the mere President-elect, he had no part in the negotiations, whereas President
Jimmy Carter
and his
Deputy Secretary of State
Warren Christopher
definitely did.
1983
- The
Apple Lisa
,
Apple Inc.
's first commercial personal computer to have a
graphical user interface
and a
computer mouse
, was announced.
2007
- Armenian journalist
Hrant Dink
was assassinated in front of his newspaper's office by 17-year-old Turkish ultra-nationalist
Ogün Samast
.
*
share on:
facebook