The problem with most celebrities is they won't shut up; they just bang on and on about stuff with which they have only a cursory understanding, as susceptible to the mocking laughter of studio audiences as to the goadings of ratings-mad TV presenters... The problem with
Julian Barnes
is he seems reluctant to say much of anything outside of his novels, despite obviously being in possession of an elegant perspective on modern life.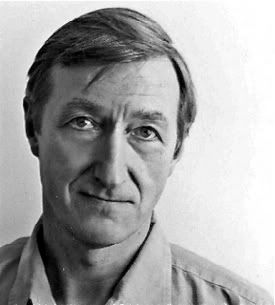 Of course, it helps that his works can so eloquently speak for themselves, not requiring the spin of their author to help them make sense. Even
England, England
, his 1998 comedy of manners on modern Britain was insightful and even-handed - rather than, say,
raunchy and nonsensical
like some I could name - whereas insight and even-handedness would seem to be in rather short supply in the culture itself.
Born on this day in 1946, Barnes is the author of ten novels*. The first of them,
Metroland
, appeared in 1980; it was followed by
Before She Met Me
,
Flaubert's Parrot
, and
Staring at the Sun
at two year intervals.
A History of the World in 10½ Chapters
followed in 1989, presenting his fellow authors with the daunting task of figuring out exactly how he managed to write half a chapter.
The rest of his list is comprised of
Talking it Over
(1991),
The Porcupine
(1992),
Love, Etc.
(2000), and
Arthur & George
(2005); in addition to these he's also published books of essays, short stories, journalism (both from
The New Yorker
and on cooking),
In the Land of Pain
(2002) the translation of memoir by
Alphonse Daudet
, and his own memoir
Nothing to Be Frightened Of
in 2008. For his efforts he's been awarded the
Somerset Maugham Award
, the
Geoffrey Faber Memorial Prize
, the
E. M. Forster Award
, the
Prix Médicis
, the
Shakespeare Prize
, the
Austrian State Prize for European Literature
, the
International IMPAC Dublin Literary Award
, the
Duff Cooper Prize
, the
Commonwealth Writers Prize
, and three times the
Man Booker Prize for Fiction
in addition to having been made a Chevalier of France's
Ordre des Arts et des Lettres
.
*Under his own name, that is, as well as four works of detective fiction in the 1980s under the rubric Dan Kavanagh.

*
share on:
facebook