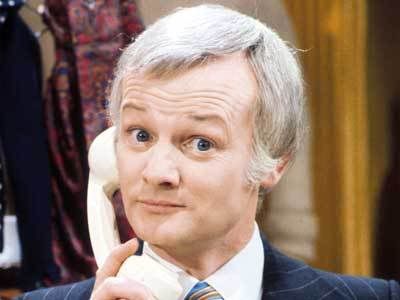 When the news of
John Inman
's death - on this day in 2007 - was met with near universal grief across the blogosphere it ironically gladdened me; that his portrayal of the flamboyantly camp
Mr. Humphries
on the classic
Britcom
Are You Being Served?
could be as beloved as the man himself says as much about the role television can play in the long term when it comes to eradicating social stigmas as it does about Inman's own likability.
Gay activists such as those with the UK's
Campaign for Homosexual Equality
protested his performance on the show, complaining about his stereotypical characterization, which shows just how out of touch the professionally offended (and their agenda) can be; while they were shouting behind their picket signs a generation of kids was growing up impressed with the way Mr. Humphries deftly dealt with (and in) innuendo as the best-liked employee of the fictional Grace Brothers department store.
After the show ended, Inman played the character in its
Australian version
, a fact I learned just this moment which will keep me from sleeping tonight because now I desperately want to see those episodes, having already seen every second of the British original. He also had a very successful career later in life as a
pantomime dame
, appearing in over 40 productions in the UK, often as an
Ugly Sister
in
Cinderella
alongside
Barry Howard
. In December 2005 he entered into civil partnership with Ron Lynch, his partner of 35 years; Inman died on this day in 2007 at the age of 71, having been admitted to
St Mary's Hospital
in London's Paddington neighbourhood.
*
share on:
facebook