On this day in 1610
John Guy
sailed from Bristol* with 39 colonists, intent on creating the first permanent colony and plantation in
Newfoundland
on behalf of Britain's
Society of Merchant Venturers
. He'd already received his charter from
James I
in 1607, and explored the coastline of
Conception Bay
- scouting for a town site - in 1608.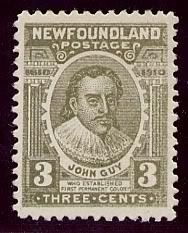 The colonists arrived in August, too late in the year to do much but build their homes and ride out the winter, but survive it they did; in fact,
Cuper's Cove
was only the second New World colony (after the
Jamestown Settlement
) to survive for more than a year after its establishment. It was also there where, in
March 1613
, the first white baby in Newfoundland was born to the wife of
Nicholas Guy
.
Steadily occupied for the rest of the century, the site was abandoned early in the 18th Century; today a village known as
Cupids
- home to some 800 people - stands near where Guy's original colony stood.
*Where he'd once served on the Common Council and as sheriff before being named Governor of Newfoundland by the
London and Bristol Company
.

*
share on:
facebook