Like many beautiful young people running after the fame and adulation promised by Hollywood, Carole Landis was also running from something much worse - namely her own past. As hard as it may be for those who believe in the power of beauty to comprehend, beauty is as much a curse as it is a gift - which is a lesson Carole Landis would spend her entire life learning the hard way...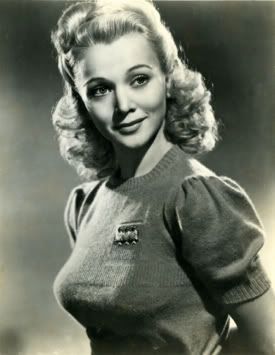 Born in Wisconsin on New Year's Day 1919, Landis never knew the man she thought was her father, Alfred Ridste, who walked out on the family before Carole was born; the man who actually might have been Carole's father, Charles Fenner, eventually became her stepfather. The youngest of five children, two of Carole's brothers died in childhood - one was scalded, the other shot - which may have had something to do with the climate of abuse in the household. Landis herself was molested from an early age, likely by one of a series of putative 'uncles' courting her mother.
With her sunny good looks and friendly disposition, Landis alternated between winning beauty contests and making feminist statements as a teenager, such as trying to start a girls' football team at her high school. By the mid-1930s she'd escaped (or thought she had) and found herself singing in nightclubs in San Francisco; her first film appearance came shortly thereafter in 1937, although like fully half of the entries in her filmography, she was unbilled for her performance.
Unsatisfied with just being a pretty girl in a sweater*, Landis managed to get a contract with
20th Century Fox
, and not just because she was sleeping with
Darryl F. Zanuck
either, although after their relationship ended the good parts she'd gotten in the early 1940s evaporated, and she was back to making B-movies. Having dated a string of Hollywood notables -
Franchot Tone
,
Charlie Chaplin
, and
George Montgomery
to name just three - Landis threw herself into the war effort, even traveling overseas to perform for the troops; during one trip she nearly died of amoebic dysentery and malaria. She later wrote a book about her experiences, which was later made into the movie
Four Jills in a Jeep
, which costarred such other USO notables as Mitzi Mayfair,
Kay Francis
, and
Martha Raye
.
By the early-1940s it might have seemed like Landis had finally beaten back her demons; depression, though, is a wily foe. Treating it is as individual as those who live with the condition, a concept scarcely given credence today, and one which certainly wouldn't have even occurred to anyone then. Landis had previously attempted suicide in 1944 and 1946, and her attempt on this day in 1948 might have failed as well if only her then-boyfriend
Rex Harrison
hadn't wasted so much time attempting damage control. When he found her she was still alive, albeit with a weak pulse; by the time he'd wasted half an hour looking through her address book for the phone number of her doctor the Seconal she'd taken had done their work, and she was gone.
Carole Landis was buried at
Forest Lawn
in Los Angeles, and was posthumously awarded a star on the
Hollywood Walk of Fame
. In pop culture terms, though, her most enduring memorial came when
Jacqueline Susann
based the character Jennifer North - from her
1966 novel
Valley of the Dolls -
on Landis; in the 1967
movie version
Jennifer North was played by another Hollywood beauty with an entirely different tragedy on her horizon,
Sharon Tate
.
*Despite being awfully good at it, as the photo shows.

*
share on:
facebook