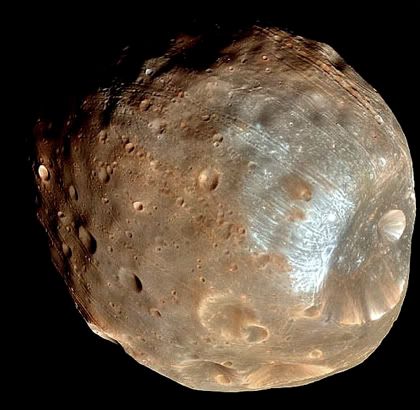 [

The misshapen lump of rock orbiting Mars now known as Phobos also has a more tragic moniker - the 'doomed moon'... Thought to be an asteroid trapped by Martian gravity, in about eleven million years or so the same pull that brought them together will either a) send Phobos careening into the so-called Red Planet or else b) shatter it into rubble - which debris will then give Mars one of those snazzy rings like Saturn has; at least for awhile, that is, until those rings begin raining down onto the planet below. Hopefully by then the human settlers of the place will have long since blasted Phobos into oblivion to give themselves a clearer view of the Crab Nebula!

]
1201
- The Latvian capital of
Riga
was founded.
1572
- Henry of Navarre - the future
Huguenot
King of France,
Henri IV
- married
Marguerite de Valois
in a supposed attempt to reconcile Protestants and Catholics in a country badly riven by sectarian strife; nevertheless, Henri IV ended up converting to Catholicism in
July 1593
at the behest of his mistress,
Gabrielle d'Estrées
. Even that wasn't enough to avert disaster for long... His Majesty would be assassinated by the rabidly Catholic
François Ravaillac
in
May 1610
.
1587
- The first British child native to America,
Virginia Dare
, was born in the
Roanoke Colony
.
1634
-
Urbain Grandier
, accused and convicted of sorcery, was burned alive in the French town of
Loudun
.
1838
- The
Wilkes Expedition
- which would explore the Puget Sound and Antarctica - weighed anchor at Hampton Roads, Virginia.
1848
-
Camila O'Gorman
and Ladislao Gutierrez were executed by firing squad on the orders of Argentine dictator
Juan Manuel de Rosas
- an action so shocking given that the 20-year-old socialite was at the time heavily pregnant it hastened the collapse of the de Rosas Regime. The fact that it was Gutierrez' child she was carrying (let alone that the child had been conceived out of wedlock) was shocking enough in those days in and of itself, but the fact that he was a priest also upset a few delicate sensibilities. The story later inspired the two films:
Mario Gallo
's 1910 work
Camila O'Gorman
, starring Blanca Podestá (itself one of the first films ever made in Argentina and now considered lost), and
Camila
; directed by
María Luisa Bemberg
and starring
Susú Pecoraro
in the title role - with
Imanol Arias
and
Héctor Alterio
- it became Argentina's second-ever entry into consideration for the
Academy Award for Best Foreign Language Film
*.
*It lost to Switzerland's first-ever winner in the category,
La diagonale du fou
.

1862
- Trader
Andrew Myrick
was killed at the
Battle of Lower Sioux Agency
; when his body was found days later his mouth stuffed with grass. Myrick had earlier refused to aid in the alleviation of famine in the area by suggesting the local First Nations 'eat grass' to survive.
1868
- French astronomer
Pierre Jules César Janssen
discovered
helium
.
1877
-
Asaph Hall
discovered the Martian moon
Phobos
, having already discovered Mars' other moon
Deimos
a week earlier.
1904
-
Chris Watson
resigned as
Prime Minister of Australia
, only to be succeeded by
George Reid
.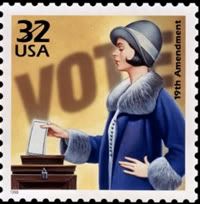 1920
- The
19th Amendment
to the US Constitution was ratified by the state of Tennessee, thus ensuring American women the right to vote. Despite the fact that the measure had the vocal support of President
Woodrow Wilson
as early as January 1918, the Senate repeatedly held up the measure - at one point defeating it by a mere three votes. The Senate's recalcitrance inspired the
National Woman's Party
to call for the defeat of those Senators who'd gone on record as opposed to it in the 1918 midterm election - an action which was seen as effective, since after the Senate's next vote the tally was 56 to 25 in favour! Secretary of State
Bainbridge Colby
certified the amendment's adoption on August 26th, and in February 1922 the US Supreme Court ruled in
Leser v. Garnett
that the 19th Amendment had been properly adopted.
1938
- The
Thousand Islands Bridge
was dedicated by US President
Franklin D. Roosevelt
; more correctly called a causeway, it links Upstate New York with Ontario between Kingston and Cornwall at the scenic
Thousand Islands
region, where the St. Lawrence River flows into Lake Ontario.
1958
-
Vladimir Nabokov
's controversial novel
Lolita
was published in the US, having already published in France in 1955.
1964
- South Africa was
barred from sending any athletes
to the
18th Olympic Summer Games
(held in Tokyo) due to its horrendous record on human rights; these days, of course, any country with a dire attitude towards its own citizens and their liberty would be hosting the games.
1976
- In the
Korean Demilitarized Zone
at
Panmunjeom
, the
Axe Murder Incident
resulted in the death of two US soldiers, Captain Arthur Bonifas and First Lieutenant Mark Barrett, at the hands of North Korean soldiers.
1977
- Anti-apartheid activist
Steven Biko
was arrested in
King William's Town, South Africa
.
1989
- Leading Colombian presidential hopeful
Luis Carlos Galán
was assassinated near Bogotá.
1992
-
Wang Laboratories
filed for
bankruptcy
.
2005
-
Dennis Rader
was sentenced to serve 10 consecutive life sentences in prison for his having committed the
BTK serial killings
in and around Wichita between 1974 and 1991; his earliest eligibility for parole will be in 2180, after having served 175 years.
*
share on:
facebook