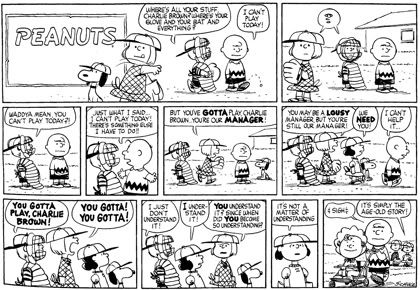 It was on this day in 1959 - a Sunday - when
Charlie Brown
's little sister
Sally
first appeared in the
Peanuts
comic strip; in case you were wondering*, that's her in the stroller in the very last frame...
Of course, the arrival of a new sibling is a commonplace enough occurrence (and in those days, at the height of the Baby Boom, even more so) but
Charles Schulz
's genius was in crafting a strip about such an everyday event that would not only render the ordinary extraordinary but do so with cross-generational appeal. In fact, doing that very thing - and consistently at that - quickly became and would remain Schulz's stock-in-trade throughout his entire career.
This post was first published in 2007, and has been 'improved' along the way**; I've published it here for a fourth time having once again offered a sacrifice to my principal deity,
Fair Use
. It's taken from
The Complete Peanuts: 1959-1960
, itself just one of 25 projected volumes in an ambitious undertaking by
Fantagraphics
to make available the entire 50-year run of
Peanuts
to collectors such as myself - a project about which I've
written extensively
in the past, and intend to continue writing about in the future, even (if the Fates allow) long after the last in the series has been published...

*Or are an utter thicko.
**For instance, I replaced a photograph of the above image I originally posted with a scan - actually a pair of scans, as there is a larger version of it behind the one you see before you; I've also rewritten the text subtly each time I've republished it.
I figure if I'm going to keep rehashing the same old stuff year in and year out the very least I can do is keep trying to make it the best it can be!
I really should redo the scan because of the warp at the bottom left, but maybe I'll save that for another year...
*
share on:
facebook