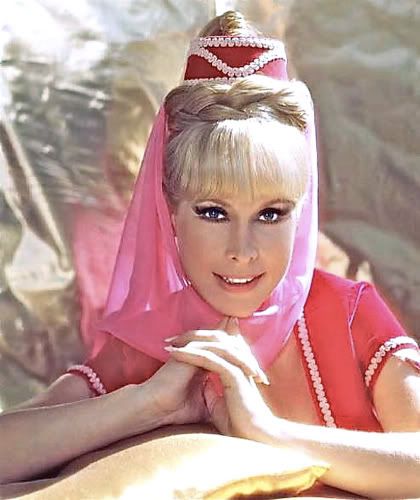 Birthday gal
Barbara Eden
, of course, was the focal point of the sitcom
I Dream of Jeannie
, even more than her navel was the focal point of much consternation by the network censors of the day. The show - which ran for 139 episodes from September 1965 to May 1970 - was much-loved by fans of slightly dizzy entertainment with just a hint of the supernatural, and much-reviled by anyone for whom implications are more important than what's actually being shown onscreen.
As with other supernatural sitcoms (
My Favourite Martian
,
Bewitched
,
Nanny and the Professor
)
I Dream of Jeannie
offered viewers a bit of escapism that a more reality-based show couldn't; yet aside from the fact that Jeannie called Tony Nelson (played with suave aplomb by a young
Larry Hagman
) 'master' and was ostensibly supposed to obey him, the show could be considered feminist in that while she was honour-bound to obey the letter of what he said she often did what she wanted anyway without any heed to the intention of his demands which, anyway, weren't many. As usual, of course, context is everything... To modern eyes the show seems an entirely retrograde male fantasy, yet to its contemporary viewers it was nothing short of a declaration of girl power.
Much of the show's success was due to the bubbly beauty of its star; sure she was pretty, but she was also sweet and kind - an assessment just as accurate offscreen as on. Unlike some stars who come to be so heavily identified with a character early in their career (often to the detriment of their later work) Eden has been unfailingly gracious with her fans over the years, appearing at autograph fairs and the like, only to be mobbed by people not even born when the show first aired - a testament to the show's (and her own) enduring popularity.
Now seeing as this is me and not, say, any straight guy who's ever seen
I Dream of Jeannie
I can reassure you that any dreams I've ever had about Barbara Eden have been entirely dry. Still, I feel that I owe it to my straight male readers to balance my around-the-c(l)ock coverage of gay porn stars by occasionally throwing them a bone; I can only, uh,
dream
that the above photo will help them return the favour.
*
share on:
facebook