Anna Mary Moses wasn't trained as a painter; originally she excelled at needlepoint and embroidery. However, as arthritis encroached after her seventieth birthday she switched to painting. Fortunately her eyesight held out, and thereafter she proceeded to create some of the loveliest folk art ever.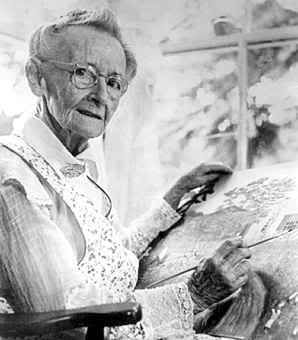 Over the final thirty years of her life, the woman known as Grandma Moses painted an American idyll consisting mainly of winter scenes set in upstate New York and Appalachia. One of her paintings - entitled
The Fourth of July
and made in honour of President
Dwight D. Eisenhower
- hangs in the
White House
today.
Her work was first discovered in 1938 by the wealthy art collector Louis J. Caldor, who brought her to the attention of art dealer Otto Kallir. And the rest, as they say, is pop culture*...
Born on this day in 1860, Grandma Moses died in December 1961, having lived long enough to see her hundredth birthday proclaimed 'Grandma Moses Day' by New York governor
Nelson Rockefeller
.
*Literally! The character of Granny Moses played by
Irene Ryan
in the sitcom
The Beverly Hillbillies
was not only named after her but modeled after her as well, at least in appearance.
*
share on:
facebook