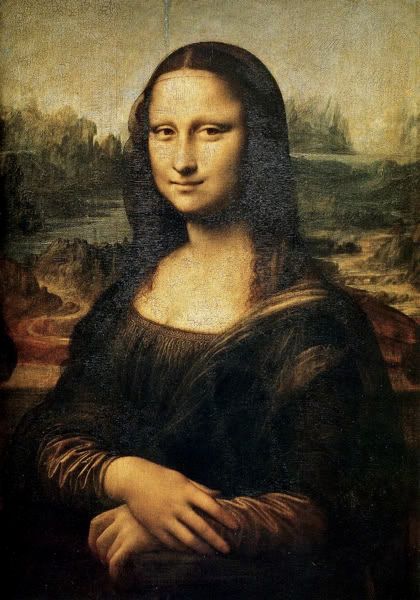 [

When Leonardo da Vinci's masterpiece the

Mona Lisa

was discovered missing from the Musee du Louvre by Louis Béroud, French police likely shrugged and made a maddeningly apathetic sound, as if to say 'Yeah, but what are you going to do, ah?'; although Guillaume Apollinaire was briefly jailed for the crime, and he in turn tried to implicate Pablo Picasso, neither of them was guilty. It would be two years before Vincenzo Peruggia got done for doing the deed, when he tried to sell the work to the Uffizi Gallery in Firenze.

]
1191
- England's King
Richard I
defeated
Saladin
at the
Battle of Arsuf
during the
Third Crusade
.
1776
- In what came to be known as the world's first submarine attack, the American submersible craft
Turtle
under the command of
Ezra Lee
attempted to attach a
time bomb
to the hull of British Admiral
Richard Howe
's flagship
HMS Eagle
in
New York Harbor
. Although Lee's efforts would be for naught - he gave up after two failed tries - it didn't stop the Turtle's builder,
David Bushnell
, from trying various sea-going means of sabotage, including an attack on the
HMS Cerberus
in 1777 using floating mines.
1812
- At the
Battle of Borodino
Napoleon and his
Grande Armée
defeated the Russian forces of
Alexander I
under
Mikhail Kutuzov
near the village of
Borodino
; it would prove to be the single bloodiest day of the
French invasion of Russia
during the
Napoleonic Wars
, with fatalities in the tens of thousands.
1818
- King
Carl III
of Sweden was crowned King of Norway in
Trondheim
, uniting the kingdom of
Sweden-Norway
under his personal rule
as per
the terms of the
Treaty of Kiel
.
1822
-
Dom Pedro I
declared the independence of Brazil from Portugal on the shores of São Paulo's Ipiranga River with the words 'Independence or death!'; the Portugese regent's declaration greatly appealed to Brazilian nationalists, and would later became known as 'O grito do Ipiranga' or 'The Cry of Ipiranga'.
1876
- In
Northfield, Minnesota
,
Jesse James
and the
James-Younger Gang
attempted to rob the town's bank but were surrounded by an angry mob and nearly killed; in addition to some of the members of the gang,
Joseph Lee Heywood
and
Nicholas Gustafson
perished on that day. The event was later immortalized in the
1972 film
The Great Northfield, Minnesota Raid
which starred
Robert Duvall
as Jesse James and
Cliff Robertson
as
Cole Younger
.
1901
- The
Boxer Rebellion
in China officially ended with the signing of the
Boxer Protocol
; contrary to popular belief,
Barbara Boxer
had nothing to do with either the rebellion or the protocol that ended it, since there is no popular belief of the sort. I just made that up to see if you've been paying attention.
1911
- French poet
Guillaume Apollinaire
was arrested and put in jail on suspicion of stealing the
Mona Lisa
from the
Musee du Louvre
on
August 21st
of that year when in fact it was
Vincenzo Peruggia
who hid in a broom closet until after closing and walked out of the museum with it under his coat.
1915
- Former cartoonist
Johnny Gruelle
was awarded a patent for his
Raggedy Ann
doll; the doll was marketed in conjunction with a series of children's books, in what was then a new innovation.
1921
- The first
Miss America Pageant
was held, in
Atlantic City, New Jersey
; originally a two-day event called the Atlantic City Pageant, the winner of its beauty contest (named
Margaret Gorman
) wasn't even called Miss America until the following year, but she did win a three-foot tall trophy of a golden mermaid. Just what every woman needs...
1936
- Benjamin, the last
Tasmanian Tiger
, died - rendering the species
thylacine
extinct.
1953
-
Nikita Khrushchev
became head of the Soviet Union's
Central Committee
.
1963
- The
Pro Football Hall of Fame
opened in
Canton, Ohio
, with 17 charter members.
1969
- The first episode of
Monty Python's Flying Circus
was recorded; when it
aired
on October 5th it was diffidently received, although in a very short span of time it would go on to give generations of geeks entire routines to memorize, which they would do instead of dating.
1978
- While walking across London's
Waterloo Bridge
, Bulgarian dissident
Georgi Markov
was assassinated by Bulgarian secret police agent
Francesco Gullino
by means of a
ricin
pellet fired from a specially-designed umbrella. Markov died four days later, whereas Gullino is thought to be a free man to this day.
1979
- The
Entertainment and Sports Programming Network
(or ESPN) made its debut.
1986
-
Desmond Tutu
became the first black man to lead the Anglican Church in South Africa.
1996
- Rapper
Tupac Shakur
was shot four times at the intersection of East Flamingo Road and Koval Lane in Las Vegas after he attended the
Mike Tyson
/
Bruce Seldon
bout at the
MGM Grand
; he died six days later.
2008
-
Jonathan Larson
's musical
Rent
closed on Broadway after
ripping off
Sarah Schulman
's novel
People In Trouble
for 12 years.
share on:
facebook