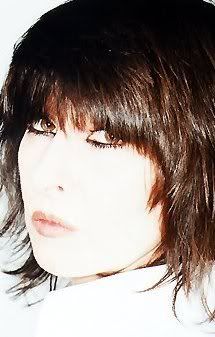 The late Seventies and early Eighties were not a great time to be a woman in music - unless, that is, you were Chrissie Hynde. Yet her good times were born out of some really bad times... For instance, she was a student at
Kent State University
during the
shootings
that occurred there in May 1970; among the fatalities was a friend of hers,
Jeffrey Miller
.
As an American in London in 1973 she dreamed of being in a band, only the dream kept eluding her. Through a lover,
Nick Kent
, she landed a short-lived job at the UK's most influential music publication,
New Musical Express
, and still later worked at
Malcolm McLaren
and
Vivienne Westwood
's then-little-known clothing store,
SEX
. After a few false starts at joining a band, by 1978 she had met
Pete Farndon
,
James Honeyman-Scott
, and
Martin Chambers
and was fronting
The Pretenders
; the following year they had the first of their many hits,
Stop Your Sobbing
, originally recorded by
The Kinks
.
Thirty years later and The Pretenders are still together, although she (and her gravelly sweet vocals) are the only constants in the lineup; despite this, she has repeatedly refused to be billed as Chrissie Hynde and the Pretenders, which can only be interpreted as an eschewal by her of the cult of personality which often emerges around singers in bands...
*
share on:
facebook