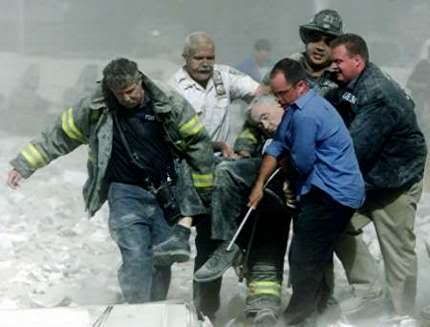 The most enduring story for me from that terrible day - September 11th, 2001 - is that of Father
Mychal Judge
, a Franciscan priest and chaplain of the Fire Department of New York, who again and again went into burning, collapsing buildings to deliver Last Rites to the men who were dying in them. On his final trip - into the lobby of the North Tower - he was struck by falling mortar and killed.
He is officially the first victim of the attacks, although many thousands had already died by the time he fell; the image of his body being recovered is already known as the 'American Pieta'. On that day a man may have died, but a legend was born...
Despite the harrowing events of that day, it was on September 12th that all Hell really broke loose. That's when it was revealed that Father Judge was gay. The very idea that a gay man could be heroic sent the usual suspects - the Catholic Church, the Republican Party, and the fascists of the allegedly liberal mainstream media - into their usual tizzy, and the 24-hour news cycle sent those tizzies into overdrive.
Earlier calls for Judge's canonization ceased upon that revelation, but whether the Church chooses to honour Saint Mychal Judge or not, both people who knew him and people who only knew of him continue to honour the memory of a man who died in the line of duty, a man whose Boss loves him, no matter what Vatican management says...
*
share on:
facebook