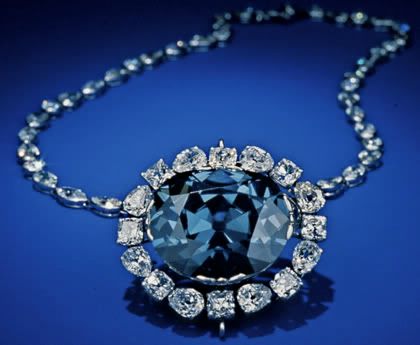 [
The Hope Diamond, currently housed in the
Smithsonian Institution
's
Natural History Museum
, has had a long and storied history; it's
so long, in fact, that some of the stories about it are even true!
]
1541
-
Michimalonco
led a band of
Mapuche
warriors in the
destruction
of
Santiago, Chile
; defense of the village was left to the
conquistadora
Inés de Suárez
, as her lover
Pedro de Valdivia
was away. The skirmish was an early engagement in the
Arauco War
, which was not settled until 1881 by a process known as the
Pacification of the Araucania
.
1609
- English sailor
Henry Hudson
entered the mouth of
Upper New York Bay
, landing on the island of Manhattan in order to take on provisions before sailing up the river that would one day be named after him - the
Hudson River
- on behalf of his employer, the
Dutch East India Company
.
1649
- The
Siege of Drogheda
ended when Oliver Cromwell's English Parliamentarian troops took the Irish town and executed its garrison.
1789
-
Alexander Hamilton
was
appointed
first US Secretary of the Treasury by President
George Washington
.
1792
- The
Hope Diamond
was stolen along with the other Crown Jewels of France when six men broke into the house where they were stored.
1921
-Silent film star
Roscoe 'Fatty' Arbuckle
was
arrested
for raping
Virginia Rappe
on September 5th; she died three days later, some said as a result of injuries arising from that rape. Despite three subsequent acquittals for his involvement in the crime, the old maxim 'where there's smoke there's fire' killed Arbuckle's career as surely as someone had killed Rappe...
1940
-
Buckingham Palace
was damaged by Nazi bombs during the
Blitz
, the first of seven such attacks during World War II on the London home of King
George VI
, prompting the
Queen
* to famously state '....now the palace has been bombed, I feel now that I can look at the people of the East End straight in the eye'.
*Subsequently the Queen Mother.
1941
- Construction began on the
Pentagon
with a groundbreaking ceremony attended by President
Franklin D. Roosevelt
; more ground would be broken there 60 years later to the day when, in 2001, '
American Airlines Flight 77
'
crashed
into it.
1956
-
People to People International
was founded by US President
Dwight D. Eisenhower
.
1961
- The
World Wildlife Fund
was formed in Morges, Switzerland, a suburb of Lausanne; it was the brainchild of
Julian Huxley
and
Max Nicholson
.
1970
- The
Ford Pinto
was introduced.
1972
-
Bay Area Rapid Transit
(BART) began regular service in San Francisco.
1973
- A coup in Chile orchestrated by General
Augusto Pinochet
toppled the democratically elected government of
Salvador Allende
.
1992
-
Hurricane Iniki
devastated Hawai'i, killing 6 people and causing $1.8 billion in damages.
1994
-
Frank Eugene Corder
stole a Cessna plane shortly before midnight, intending to crash it into the
White House
...
1997
- NASA's
Mars Global Surveyor
reached Mars - technically the landing was called an 'orbital insertion', which is dirty talk for sci-fi fans.
*
share on:
facebook