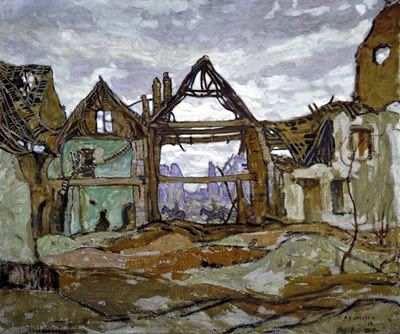 As a founding member of the
Group of Seven
, A. Y. Jackson (born this day in 1882) is partially responsible for the introduction of Impressionism to the depiction of the vast Canadian wilderness, which until then had been thought too rugged to paint by the effete cultural elites of Southern Ontario.
Wounded at the Battle of Sanctuary Wood in June 1917 he turned to making a record of the Great War while recovering from his injuries. The above scene, entitled
House of Ypres
, was done in 1917.
Whether capturing scenes of Nature's beauty or the devastation caused by man, A. Y. Jackson surely ranks as one of the finest painters ever produced by Canada.
*
share on:
facebook