When I was a kid in the 70s, the work of James Herriot was everywhere. Whether in their original form or in compendium, those paperback books never failed to transport me to rural Yorkshire, to the time during and after World War II. They are at least partly responsible for the rampant Anglophilia infecting me to this day...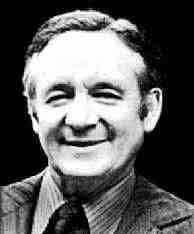 Born Alf Wight in
Sunderland
on this day in 1916, the man who became James Herriot was raised in
Glasgow
, before returning to England and establishing his veterinary practice in
Thirsk
. Wight wrote his first book,
If They Could Only Talk
, in 1969, and followed it with ten more before his death in February 1995. He used a pen name because he was still a practicing vet when he started writing them, and at that time vets were forbidden to advertise; apparently there was some concern at the time that writing books about his experiences would be breaking this rule.
To this day the works of James Herriot remain as heart-warming and wholesome as ever, their ongoing popularity a testament to the man who wrote them.
*
share on:
facebook