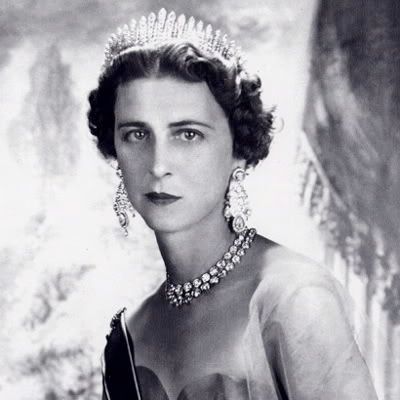 Born on this day in 1906, the much-loved Princess Marina was the last foreign-born Princess to marry into the
British Royal Family
; already a Princess of both Greece and Denmark she became a Princess of Great Britain when she married the current Queen's handsome and dashing uncle
Prince George, The Duke of Kent
, in November 1934.
Together they had three children: Edward, the current
Duke of Kent
, Princess
Alexandra, the Honourable Lady Ogilvy
, and Prince
Michael of Kent
, who famously married a
monster
. Throughout the years of their brief marriage the Duke and Duchess cut a pair of dashing figures in London society, during which time she was frequently photographed by Cecil Beaton.
Following her husband's untimely
death
in
August 1942
, Princess Marina maintained a steady calendar of royal duties, the highlight of which was the celebration of the independence of Ghana in
March 1957
, which she attended on behalf of her niece. She also attended the independence of Botswana in September 1966, and so grateful were the people of the capital Gaborone that they named their brand new hospital after her. For many years Her Royal Highness was president of Wimbledon's
All England Lawn Tennis and Croquet Club
.
The year after her
August 1968
death
she was mentioned in a
song
by
The Kinks
;
She's Bought A Hat Like Princess Marina
appears in their
1969 rock opera
Arthur (Or the Decline and Fall of the British Empire).

*
share on:
facebook