She was the most beautiful woman of her day; knowing that her beauty was the best chance she had to achieve the life she wanted, she exploited it to its utmost. Whether her life was any better on this day in 1815, the day she died, than it was on the unknown day she was born is a matter for debate; she certainly did have an interesting life out of it, though...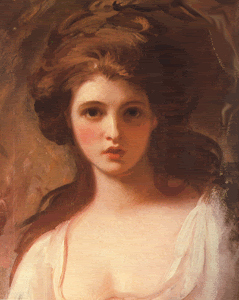 Born in obscurity (her birth date unrecorded, the year likely 1761) and raised in humble surroundings, she arrives in history a precocious 12 year-old - in the days when a 12 year-old was more like a 20 year-old of today - already aware of her objective and ambitious enough to achieve it.
Originally a maid, she quickly gravitated to London, where she worked in that line for several actresses, including Mary Robinson, the mistress of the
Prince Regent
. Since maiding was a thankless and low-paying job she was soon working in the vicinity of the
Drury Lane Theatre
as a prostitute (which paid better) and as an artist's model (which provided copious thanks from the artists, fame, and access to well-heeled admirers as well).
In the latter endeavour she was particularly favoured by the artists
Sir Joshua Reynolds
and
George Romney
; having posed for Romney hundreds of times - portraying nymphs, goddesses, and the like - it soon occurred to her to pose as a lady (or at least a Lady). To this end she set her sights on a preferably noble, eminently forgiving, suitably rich, potentially old husband to complete the picture. She thought she'd found one in
Charles Francis Greville
although, as the second son of the
Earl of Warwick
, he stood to inherit nothing; not only that, the toffee-nosed git refused to marry her, preferring instead the obscenely wealthy Henrietta Willoughby.
In due time Greville passed her to his wealthy uncle Sir
William Hamilton
, whereupon she was whisked away to Naples to live as the wife of the British envoy. His Lordship, in turn, was more than happy to share Her Ladyship with one of the greatest military heroes of that or any other time - Lord
Horatio Nelson
. Amazingly, despite the scandalous life she'd led to date, it was as Nelson's mistress that Lady Hamilton achieved her greatest notoriety.
They first met in 1793, although their affair did not begin until after September 1798 when, at a party the Hamiltons threw for him she fainted into his arms in admiration; when she gave birth to his daughter in January 1801 she called the baby Horatia, who was then swaddled in secrecy. Shortly thereafter Nelson bought
Merton Place
, outside of London, and set up housekeeping for himself, Emma, their daughter, and Emma's mother there. Sir William was even known to bunk up at Merton Place on occasion, which must have made for some cozy evenings around the fire.
In 1803, after the death of Emma's husband, she was refused his pension. Nelson's return to the sea came a short while later; without his presence, fewer and fewer visitors came to see her or the home she maintained as a shrine to him. After Nelson's death in
October 1805
at the
Battle of Trafalgar
she was naturally denied his pension and the respect accorded his widow - she wasn't even invited to his
funeral
. The final decade of her life was spent in trying to maintain his home, which was a losing battle; bit by bit she sold off the property, and finally the house. By the time it was finally demolished in 1823 she'd already been dead for years.
Emma, Lady Hamilton, was notably portrayed by
Vivien Leigh
- herself one of the most beautiful women of her day - in the
1941 film
That Hamilton Woman
.
*
share on:
facebook