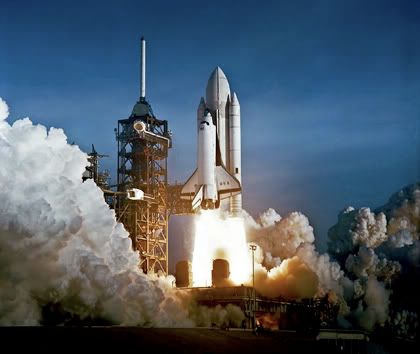 [

That the Space Shuttle

Columbia

was both the first to become space-worthy (on mission STS-1, shown above, in April 1981) and almost the last one in history (following mission STS-107, launched on this day in 2003) is an irony not lost on the

Pop Culture Institute

; unfortunately, the same talking heads whose criticisms nearly scuttled NASA's Space Shuttle Program altogether following

Columbia

's tragic destruction seemed incapable of grasping the idea that space travel involves a lower risk for fatality than any other kind of travel, including anything involving a motor vehicle.

]
27 BCE
- The title
Augustus
was bestowed upon Gaius Julius Caesar Octavian by the
Roman Senate
, making the nephew and heir of
Julius Caesar
the first
Emperor of Rome
.
929 CE
- Emir
Abd-ar-Rahman III
of
Cordoba
declared himself
caliph
, thereby establishing the
Caliphate of Cordoba
in what is now northern Spain.
1120
- The
Council of Nablus
was held, establishing the earliest surviving written laws of the
Kingdom of Jerusalem
, which was established by Crusaders in 1099.
1362
- A great
storm tide
originating in the
North Sea
tore the German island of
Strand
in two and destroyed the wealthy city of
Rungholt
, as will happen along the
Wadden Sea
.
1547
-
Ivan the Terrible
was crowned Tsar of Russia having succeeded his father
Vasili III
in December 1533 and following the long regency of his mother,
Elena Glinskaya
.
1556
- The husband and
king consort
of England's Queen
Mary I
became King
Philip II
of Spain.
1605
- The first edition of
El ingenioso hidalgo Don Quijote de la Mancha
(Book One of
Don Quixote
) by
Miguel de Cervantes
was published in Madrid.
1761
- British forces captured the Indian settlement of
Puducherry
from the French and did what the British usually did in such a situation: changed its name, to Pondicherry.
1809
- The British defeated the French at the
Battle of La Coruña
during the
Peninsular War
.
1847
-
John C. Frémont
was appointed Governor of the new California Territory,
three days
after the
Treaty of Cahuenga
ended the
Mexican-American War
.
1883
- In response to the assassination of President
James Garfield
by a disgruntled office-seeker, the
Pendleton Civil Service Reform Act
was passed by US Congress, establishing a civil service based on merit; sponsored by Senator
George H. Pendleton
(D-Ohio) and written by
Dorman Bridgeman Eaton
, the new law outlawed patronage and nepotism in the US government.
1938
- The
famous jazz concert
by the
Benny Goodman Orchestra
and special guests took place at
Carnegie Hall
in
New York City
, the first jazz performance in that venue.
1945
- Adolf Hitler moved into his underground bunker, the so-called
Führerbunker
.
1986
- The
Internet Engineering Task Force
first met.
1996
- Long-serving three-time
Greek Prime Minister
Andreas Papandreou
resigned from office for health reasons; he died the following June.
2001
-
Congolese
President
Laurent-Désiré Kabila
was assassinated by
Rashidi Kasereka
, one of his own bodyguards, who was also killed in the botched coup attempt.
2003
-
Space Shuttle Columbia
lifted off on the ill-starred mission
STS-107
which would be its final one;
Columbia
disintegrated 16 days later over the southern US upon re-entry.
2005
-
Adriana Iliescu
became the oldest woman in the world to give birth, at age 66... The event also gave birth to some truly horrible jokes, some of which I'm not at all proud of myself for having thought them up.
2006
-
Ellen Johnson-Sirleaf
was sworn in as
Liberia
's new president, making her Africa's first female elected head of state.
*
share on:
facebook