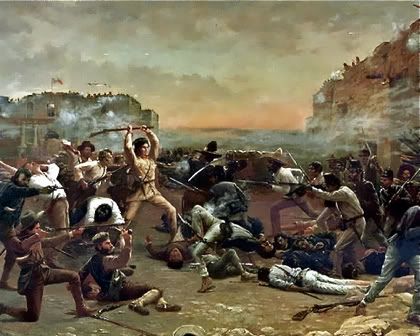 [

Robert Jenkins Onderdonk painted

The Fall of the Alamo, or

Crockett's Last Stand

in 1903, depicting the struggle for control of the

Alamo Mission

at which

Davy Crockett

,

James Bowie

, and

William Travis all died, on this day in 1836. Today The Alamo is a major tourist attraction in the Texas city of San Antonio.]
1046
-
Naser Khosrow
began the seven-year journey through the Arab world which he would later describe in his book
Safarnama
.
1447
- Tommaso Parentucelli became Pope
Nicholas V
following the death of
Eugene IV
.
1521
-
Ferdinand Magellan
arrived at Guam, more or less the midway point of his attempted circumnavigation of the globe; although he wouldn't make it (he was killed at the
Battle of Mactan
in the Philippines six weeks later) his first officer
Juan Sebastian Elcano
and three others of the original 55-man crew made it back to Spain in 1525.
1788
- The Royal Navy's
First Fleet
arrived at Australia's
Norfolk Island
in order to establish a penal colony there.
1834
- The village of
York
in
Upper Canada
was incorporated as
Toronto
; it became the center of the universe some time in the 1950s.
1836
- Following a 13-day siege by an army of 3,000 Mexican troops during the
Texas Revolution
, the 187 Texas volunteers defending the
Alamo
were defeated and the fort taken; more than any victory, the American defeat by
Antonio López de Santa Anna
at the
Battle of the Alamo
has been used to define the American experience, especially during that country's expansionist phase.
1853
-
Giuseppe Verdi
's opera
La Traviata
- based on the 1848
novel
La dame aux Camélias
by
Alexandre Dumas, fils
- premiered at the
Teatro la Fenice
in
Venice
.
1857
- The US Supreme Court made a ruling in the
Dred Scott v. Sandford
case, decreeing that persons of African descent could never be citizens of the United States; the decision was written by Chief Justice
Roger Taney
.
1899
-
Bayer
registered
aspirin
as a
trademark
; like many companies - such as Kimberly-Clark and Kleenex - Bayer has been less than vigilant in defending their rights in this instance, and aspirin has entered the common lexicon as the generic name for any ASA product. Most notably, Bayer's wonder drug was one of the last useful products ever created by a pharmaceutical company that actually helps more than it hurts; you take aspirin to relieve a headache, not to get one from worrying about whether you'll suffer anal leakage as a result of taking it. Lest you think I've gone soft on Big Pharma, Bayer is also the company most likely to bring about an end to human life, thanks entirely to their work with bee killing pesticides.
1901
- An anarchist attempted to assassinate Germany's Kaiser
Wilhelm II
in Bremen.
1902
- The Spanish football club
Real Madrid
was founded.
1927
- Fritz Lang's
masterpiece
Metropolis
was released in the US.
1951
- The treason trial of
Ethel and Julius Rosenberg
opened.
1953
-
Georgy Maksimilianovich Malenkov
succeeded
Josef Stalin
as Premier and
First Secretary
of the Communist Party of the Soviet Union following Stalin's death the previous day.
1964
- The
Nation of Islam
's
Elijah Muhammad
officially gave prizefighter
Cassius Clay
the name
Muhammad Ali
- which means 'beloved of
Allah
' - as well as renaming Malcolm X.
1970
- Suspected murderer
Charles Manson
released the
album
Lie: The Love & Terror Cult
to help finance his defense; since his conviction in the
August 1969
Tate
-
LaBianca
murders, proceeds from its sale have gone to help victims of violent crime in California.
1981
- After 19 years presenting the
CBS Evening News
,
Walter Cronkite
signed off for the last time.
1992
- The
Michelangelo virus
began affecting computers.
2007
- Former Vice-Presidential Chief of Staff and White House aide
I. Lewis 'Scooter' Libby, Jr.
was found guilty on four of five counts of perjury and obstruction of justice; he was later sentenced to 30 years in jail and fined $250,000.
*
share on:
facebook