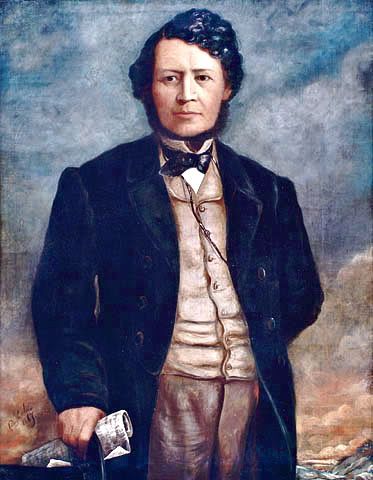 Despite a noble tradition of electing
venal cretins
to public office, Canada has had exactly two political assassinations* in its long and storied history, and only one at the federal level: Thomas D'Arcy McGee. In keeping with the more ignoble tradition of only assassinating the good guys, though, he definitely fits the bill...
One of this country's
Fathers of Confederation
- a journalist and sometime poet who foresaw great things from Canada, as well as a passionate advocate on behalf of Irish immigrants in North America - D'Arcy McGee was also adamantly opposed to sectarianism. Initially a supporter of the
Fenians
in Ireland, he later ran afoul of the
Fenian Brotherhood
in Boston, mainly because they advocated a forcible US takeover of Britain's colonies in Canada - a position he whole-heartedly did not support. Although elected MP for
Montreal West
in the
1st Canadian Parliament
(as one of Prime Minister Sir
John A. Macdonald
's
Conservatives
) in doing so he'd alienated Irish support in the riding, and intended to stand aside for a plum civil service job in the coming year.
D'Arcy McGee was killed by a single shot to the head early in the morning on this day in 1868 on the front steps of his Ottawa rooming house - before the country he'd helped to establish was even a year old. A $2,000 reward was offered, and within 24 hours
Patrick J. Whelan
was arrested for the crime, largely because of his supposed Fenian sympathies (which were only implied, seeing as he was Irish**). Whelan was hanged in
Carleton County Gaol
in February 1869 before a crowd of 5,000 spectators, protesting his innocence to the last; his ghost is said to haunt the premises still, although nowadays it's a youth hostel, which might explain anything spectral that may or may not be going on.
The incident has been the subject of a play by Pierre Brault, entitled
Blood on the Moon
- which was
apparently
made into a TV movie - and Canadian folk group
Tamarack
wrote a song about Whelan called
The Hangman's Eyes
; seeing as this is a Canadian story, though, it remains woefully absent from the cultural record. In 2005, however, the gun that likely killed D'Arcy McGee was sold at auction to the
Canadian Museum of Civilization
for $105,000 (CDN), which brought the story back into the
news
briefly; just long enough, in fact, for it to come to light that the bullet which definitely killed him - formerly in the possession of
Library and Archives Canada
- has been missing since 2000.
*The other one was

Pierre Laporte

, a Quebec provincial Cabinet minister, in

October 1970.
**Anti-Fenian sentiment had been even higher than usual ever since Prince Alfred, Duke of Edinburgh

- second son of

Queen Victoria -
was shot by
Henry James O'Farrell
on March 12th
during a royal visit to Sydney
.


*



share on:
facebook