Thanks to the miracle of DVD, the TV buff with a keen eye for the hot guy no longer has to comb that entertainment backwater known as the daytime listings to choose their favourite James Garner to crush on; nowadays the burly hunk of
Maverick
from the 50s, the washed up burly hunk of
The Rockford Files
from the 70s, or the gravelly-voiced grandad burly hunk of
8 Simple Rules
from more recent times are all available digitally remastered and commercial free!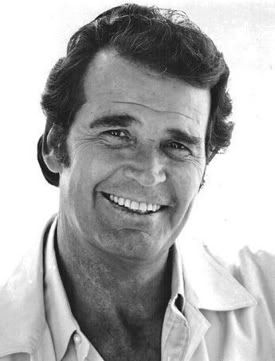 Garner's oeuvre isn't restricted to being a hunk on TV, though; such is his extraordinary range that he's also played a hunk in dozens of movies as well, including
Sayonara
,
The Children's Hour
,
The Great Escape
,
Victor Victoria
, and
Murphy's Romance
. Although most of his films have been Westerns - as befits a native of Oklahoma who suits a saddle to a tee - he's shown an equal aptitude for the kind of fluffy comedies starring lovely ladies like
Doris Day
,
Julie Andrews
, and
Elke Sommer
. Whether or not any saddles were used in the production of these so-called sex comedies will have to remain a secret between co-stars for the time being...
Of course, the secret to Garner's hunkitude isn't just his manly physique, his shiny black hair, or rugged
punim
... No, it's his politics, which have trended to the left of the Democratic Party (in other words, the centre) and have been doing so for five decades. He even got the chance to play a Democratic president in 1996's
My Fellow Americans
opposite
Jack Lemmon
, who has considerable fun playing his Republican foil.
*
share on:
facebook