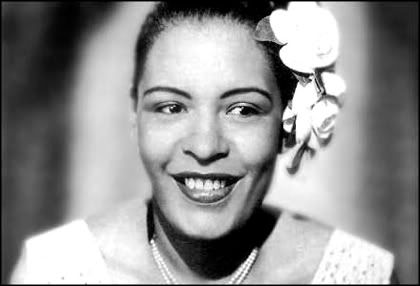 Try as I might I can't quite work up the same sympathy for artists with terrible childhoods that I can and do for others, mainly because I know that whatever Hell they've been through, their art not only helped them survive it at the time but that they can only stand to benefit from such travails after the fact as well...
One possible exception is Billie Holiday, born illegitimate* in Philadelphia on this day in 1915; in Holiday's case, the privation she encountered almost guaranteed she never had much of a chance at happiness or contentment. According to her own memoirs
Lady Sings the Blues
- admittedly not the most scrupulously accurate document, even amongst creative people's memoirs, but a gripping read nonetheless - she was raped at the age of ten which led to truancy and eventually Catholic reform school, in this case Baltimore's House of the Good Shepherd. Holiday would be raped other times as well, including once by a family friend named Wilbert Rich, who was caught in the act by Billie's mother and eventually served time in jail for the crime - a whole three months!
Of course, where such an early violation of sexuality occurs without any recourse to counselling self-medication tends to follow, and in those terms Billie Holiday was a one-woman Walgreen's. Still, she not only possessed a full complement of demons but seemed to possess all the other qualities of a star as well... She had remarkable presence, no doubt honed during all the years she worked for tips in smoky bars; hers was a thin voice in musical terms but it bulged with emotion in all the right places, as well as having the good fortune to be distinctive. She had terrible taste in men, which was pretty much expected of her, but was otherwise fairly easy to work with - especially in the early days - and obstinate mainly about turning in a good performance.
A May 1947 arrest and conviction for narcotics possession resulted in the loss of her
New York City Cabaret Card
, meaning she could no longer legally perform in Manhattan**. This draconian measure likely helped to shorten her life; inasmuch as performing was in her blood the conditions she would have encountered on tour in a heavily-segregated America would have been intolerable, both to her fragile state of mind and to the precarious nature of her health.
Having performed and even composed some of jazz's most enduring standards - her signature tune,
God Bless the Child
, was her own creation - Billie Holiday checked herself into New York's Metropolitan Hospital for what would be the last time on the final day of May 1959; having been raided for drug possession while there, and placed under armed police guard on her death bed, she died of liver failure and heart disease on July 17th at the age of only 44.
*It is the official position of the Pop Culture Institute that there are no illegitimate children, only illegitimate parents, but there you have it... Billie's father was jazz guitarist named
Clarence Holiday
, who was a father to her only in that he inseminated her mother. Even though she took his name when she was older, he made little effort to connect with her.
**Except for a single performance at the Ebony Room in 1948 under the aegis of John Levy she remained strictly verboten among the city's club owners for the last dozen years of her life.
*
share on:
facebook