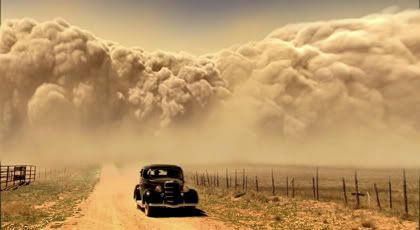 [

Shortly after noon on this day in 1935 a cloud of dust traveling 100 kilometres (60 miles) an hour came swirling out of the American West over the Great Plains... Not the first - and by no means the last - by 1940 dust storms such as this one had forced 2.5 million people to flee what was left of their farms for greener pastures, while an untold quantity of the once-fertile topsoil that had once upon a time made those farms bountiful ended up at the bottom of the Atlantic Ocean.

]
1471
- In England,
Yorkist
forces under
Edward IV
defeated their
Lancastrian
opponents under the
Earl of Warwick
at the
Battle of Barnet
, during which Warwick was killed and following which the deposed monarch was able to resume his throne - the first and only English King to do so*.
*
Charles II
technically became King upon the removal of his father
Charles I
's head in
January 1649
, but since Parliament under Oliver Cromwell had abolished the monarchy as it abolished its monarch, technically the succession was broken - at least in England.
1775
- The first abolition society in the North America - the
Society for the Relief of Free Negroes Unlawfully Held in Bondage
- was established in Philadelphia by
Benjamin Franklin
and
Benjamin Rush
.
1846
- The
Donner Party
of pioneers departed for California from Springfield, Illinois, on what would become a year-long journey of hardship, cannibalism, and survival.
1865
- US Secretary of State
William H. Seward
and his family were attacked in his home by
Lewis Powell
at the same time as President
Abraham Lincoln
was being shot at
Ford's Theatre
by
John Wilkes Booth
; a third attack, against Vice President
Andrew Johnson
- meant to be carried out by
George Atzerodt
- was not.
1881
- The
Four Dead in Five Seconds Gunfight
erupted in El Paso, Texas.
1894
-
Thomas Edison
demonstrated the
kinetoscope
- a device for peep-show viewing using photographs that flip in sequence, a precursor to movies.
1912
- The British passenger liner
RMS Titanic
hit an iceberg in the North Atlantic just before midnight; the so-called un-sinkable ship sank within hours, with the loss of more than 1,500 lives.
1927
- The first
Volvo
rolled off the assembly line in
Gothenburg
.
1931
- The Spanish
Cortes
deposed King
Alfonso XIII
and proclaimed the
2nd Spanish Republic
.
1935
- 'Black Sunday' - arguably the single worst dust storm of the US
Dust Bowl
- reduced visibility to five feet in some places, smothering wild and domesticated animals and people alike in its relentless advance; stretching from the Dakotas to Texas, drought coupled with unwise farming methods and a lack of understanding about conservation almost brought the once-rich agricultural output of the nation to a standstill.
1943
-
James Boarman
, Fred Hunter,
Harold Brest
and
Floyd G. Hamilton
took part in an
attempted escape
from
Alcatraz
. Boarman was shot in the water and is presumed dead; although his body was never found, his accomplices were all recaptured.
1958
- The Soviet satellite
Sputnik 2
fell from orbit after a mission duration of 162 days.
1968
- At the
41st
Academy Awards
, an unprecedented tie between
Katharine Hepburn
(for
The Lion in Winter
) and
Barbra Streisand
(for
Funny Girl
) resulted in the two sharing that year's
Best Actress Oscar
.
1978
- At a series of
demonstrations
in
Tbilisi
, thousands of Georgians protested against the attempt by the Soviet authorities to change the constitutional status of their
language
.
1994
- In a friendly fire incident during
Operation Provide Comfort
in northern Iraq, two US Air Force aircraft mistakenly
shot down
two US Army helicopters, killing 26 people.
2002
- Venezuelan President
Hugo Chavez
returned to office two days after being ousted and arrested by his country's military.
2005
- The
Oregon Supreme Court
nullified nearly 3,000
marriage licenses issued
to gay couples a year earlier by
Multnomah County
.
share on:
facebook