Although it was her
May 1971
marriage to rock god
Mick Jagger
that brought her into the Jet Set lifestyle of the Seventies, it was Bianca Jagger's work on behalf of civil rights that made her such a compelling figure at the time.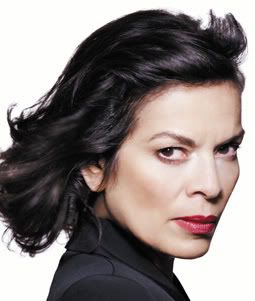 I always felt that of the whole
Studio 54
set - a frisson of boldfaced names like
Andy Warhol
,
Liza Minnelli
,
Halston
,
Truman Capote
, and
Calvin Klein
- she was the only one who seemed to have anything to say, her husky contralto and earnest outlook being constantly drowned out by the high-pitched cacophony made by her glittery friends.
Early in 1979, while her friends stayed home and worked on their coke face, Jagger returned to her homeland of Nicaragua with the International Red Cross to observe conditions there under the Somoza Regime; upon her return to Manhattan her outspoken opposition to President
Anastasio Somoza Debayle
and his policies no doubt hastened his fall from power in July of that year - a figurative assassination by media that came just a year before his very literal assassination by bazooka in
Asunción
in September 1980.
The moral of the story is: don't fuck with Bianca Jagger.
*
share on:
facebook