Blog Fodder is a new department devoted to those times when I do something stupid. I expect Blog Fodder will not only become our most productive department, but our most popular as well. - MSM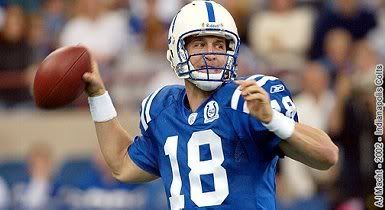 (Indianapolis Colts quarterback and Super Bowl MVP Peyton Manning, doing one of those things they do with that ball they use.)
At dinner Saturday night with Seumas and the eight musicians composing Oran nan Car I was determined to impress. I'd brought all my witty banter in the most sparkly handbag I had, and I was doing pretty good as well until talk turned to the topic of the Super Bowl. I knew it was Bears/Colts, and I knew that the Bears (dah BEARSS!) are from Chicago.
I have no idea how many times I said Denver Colts before I was gently corrected.
Oh well... At least the Indianapolis Colts managed to win despite my gaffe, and that's the important thing. Unless, of course, you're a fan of the Bears. (dah BEARSS!) It scarcely needs to be said that I am a fan of the bears (dah BEARSS!), the twinks (dah TWINKSS!), the frat boys (dah FRAT BOYSS!)... I think you get the point; too bad I don't.
WHOA! Watch out for that tangent!
share on:
facebook