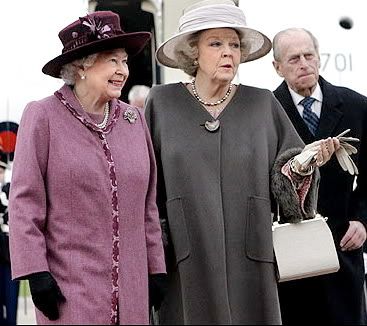 "Queen Elizabeth II marked the 400th anniversary of Amsterdam's English Reformed Church, the oldest English speaking congregation outside Britain, in a low key visit to the Netherlands Monday. The British monarch, dressed in a plum coat with a burgundy coloured hat with plum coloured flowers, attended a one-hour church service together with the Netherlands' Queen Beatrix.
"The English Reformed Church is housed in a 16th century chapel in central Amsterdam donated to the English Protestant community by the city in 1607. The church held its first English-language service on February 5, 1607 and services continued regularly with only a short interruption during the Nazi occupation of the Netherlands during World War II.
"Monday's service featured hymn singing and reading from the Bible and a sermon by Reverend Alan McDonald, the moderator of the general assembly of the Church of Scotland. Churchgoers said the service was very simple and the only difference from a regular Sunday was the fact that the church sang "God Save the Queen" at the end. Over 38 nationalities from different Christian denominations attend the English speaking church's services and on Sunday its 450 seats are nearly full.
"In his sermon McDonald stressed "the double identity and the dual nationality" of the church but insisted "this is not an historical place, we are not a museum".
"The question is: Where are you now, where are you going?" he said.
"The congregation is part of the Church of Scotland (Presbyterian) and not the Church of England (Anglican), which Queen Elizabeth II officially heads. However, the monarch does attend services with the Church of Scotland when she is in Scotland. Ministers from the English Reformed Church have been invited to preach in the chapel of the British royal's Balmoral Castle. Even though the English Church -- known locally as the Engelse Kerk -- has been led for the last 17 years by Scottish pastor John Cowie, it presents itself as "ecumenical and international".
"This is one of the major characteristics of the congregation: this is not an expat congregation, we have very strong links with the Dutch society," Cowie said. "Half of the congregation is being renewed every five years, but it keeps growing, which is a far cry from the situation in the UK parishes," he added.
After the service the British queen will meet some of the modern day worshippers and Amsterdam city officials at a private reception at the neighbouring Amsterdam Historical Museum, which is hosting an exhibition on the church's 400th anniversary. She is expected to fly back to London on Monday evening.
Earlier on Monday the queen also paid a brief visit to the International Court of Justice in The Hague, presided over by British judge Rosalyn Higgins. The queen met the judges and their partners and members of the registry. There were no speeches at the court as the queen had said she was just interested in meeting the people.
[SOURCE: AFP]
share on:
facebook