On a whim Sunday evening I stopped in at Chapter's. I got Jake Arnott's "The Long Firm" about a gay male gangster in 1960s London (a la Ronnie Kray), and "Do Not Adjust Your Set". The following article describes the thing better than I ever could.
I must say, it's nice to see children's television that doesn't talk down to its audience. There's very little difference between "Do Not Adjust Your Set" and "Not The Nine O'Clock News", except that the former eschews an occasional naughty word and political satire where the latter revels in it. It also, in a way, prefigures "You Can't Do That On Television", which, sadly, has yet to be released on DVD, but which would be much appreciated.
(Catch "You Can't Do That on Television" while you can on YouTube. Who knows? "Do Not Adjust Your Set" might be there too.)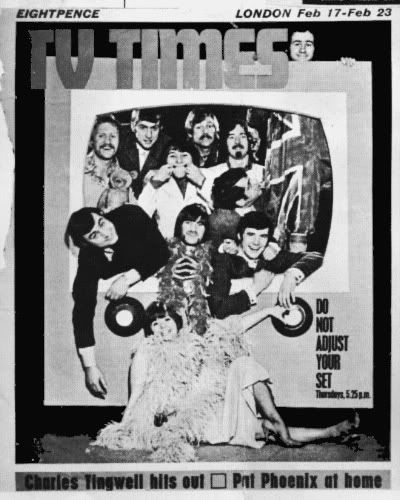 Do Not Adjust Your Set UK, ITV (Rediffusion, *Thames), Children's sketch, b/w, 1967 Starring: Denise Coffey, Eric Idle, David Jason
At Last The 1948 Show led directly to Monty Python's Flying Circus and so, in equal measure, did Do Not Adjust Your Set , a children's show of inspired sketches and skits featuring the combined - and then still largely unknown - talents of Eric Idle, Terry Jones and Michael Palin. It also propelled a decidedly untried young actor into television: David Jason, discovered by producer Humphrey Barclay in an end-of-the-pier show in Eastbourne. The fifth member of the team, by no means the least, was Denise Coffey, a versatile and naturally funny comic actress whom Barclay spotted in a play at the Edinburgh Festival.
As producer of the excellent BBC radio sketch comedy I'm Sorry, I'll Read That Again, starring John Cleese and all three of what would become The Goodies, Barclay was invited by Rediffusion executive Jeremy Isaacs to produce, along similar lines, a witty TV show for children. (The title Do Not Adjust Your Set came from the standard fault card screened during TV breakdowns - still a common sight in the late 1960s; I'm Sorry, I'll Read That Again had been titled from the standard newsreaders' apology on radio.)
The key to the show's success was Barclay's decision to produce the funniest comedy he could, irrespective of the age of the viewer. The tea-time scheduling was not overlooked, but neither did it govern the material, avoiding the most common pitfall of children's TV: the patronising attitude. Idle, Palin and Jones kept this creed firmly in mind and generated some terrific material that was satirical, surreal, absurdist and even, at times, macabre. When a sketch was felt too risqué for the hour it was simply set aside for future use elsewhere. Inevitably, Do Not Adjust Your Set quickly amassed a cult following, many adults finding excuses to leave work early and rush home for the 5.20pm transmissions. It also won a major international award, the Prix Jeunesse, in Munich in 1968.
Subtitled 'The Fairly Pointless Show', Do Not Adjust Your Set was strong in every department. Every edition featured a musical interlude by the Bonzo Dog Doo-Dah Band. Likened by Denise Coffey to 'Spike Jones and his City Slickers on speed', the Bonzos were terrific value, their lead singer Viv Stanshall, one of the great British eccentrics, never failing to create an impression. (The band also helped out in some of the sketches.) The final few editions treated viewers to the work of a young American artist new to British TV, Terry Gilliam, who provided drawings. Another bonus was a weekly serial, Captain Fantastic, which featured David Jason as a bowler-hatted, old-raincoated and moustachioed superhero trying to rid the world of the evil Mrs Black (Denise Coffey). Such was its popularity, Captain Fantastic enjoyed a life of its own, new episodes being incorporated into Thames' children's magazine Magpie from its premiere on 30 July 1968. (Thames also took over DNAYS when it won the franchise from Rediffusion.)
Five months after Do Not Adjust Your Set came to an end BBC1 launched Monty Python's Flying Circus.
Researched and written by Mark Lewisohn.
[SOURCE: BBC.CO.UK]

share on: facebook