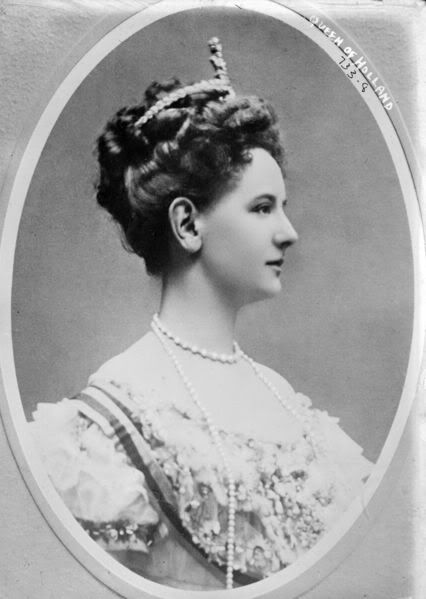 She was only 10 when, in
November 1890
, her father
William III
died; her mother
Emma
acted as Regent until she turned 18. Over the next 50 years, the reign of Queen Wilhelmina would eventually encompass one of the most turbulent times in Dutch history - from before the Boer War to World War II to the loss of Holland's empire and beyond - yet through it all she was firmly at the nation's helm.
Unhappily married to
Prince Hendrik
since February 1901, and plagued by a series of miscarriages, in April 1909 she finally gave birth to a Princess, whom she named
Juliana
.
Evacuated to London following the
Nazi invasion of Holland
, Wilhelmina quickly established a government-in-exile there; it was during this time that Winston Churchill described her as 'the only man' among European leaders for her dogged work on behalf of her embattled subjects. Having been intimately involved in the
Boer War
, Wilhelmina was no Anglophile. Nevertheless, she always afterwards expressed gratitude to England and the nations of the British Empire for their hospitality in her country's time of need.
Following
Indonesian independence
(which many Dutch felt she'd mishandled), in
September 1948
Wilhelmina abdicated in favour of her daughter; she came out of retirement briefly, to inspire morale in the aftermath of widespread
flooding
in 1953, but would spend the rest of her days in
Het Loo
Palace. It was during this time she penned her memoirs, which were entitled
Eenzaam, maar niet alleen
(Lonely but Not Alone).
Her Majesty died in November 1962 and was interred ten days later alongside her ancestors in Delft's
Nieuwe Kerk
.
*
share on:
facebook