Hollywood's
Pretty Woman
is past 40? How can that be? Why, it seems like only yesterday I was watching her in her breakout role as Shelby Eatenton Latcherie in
Steel Magnolias
... Okay, so it was only yesterday; what I meant was, for the first time.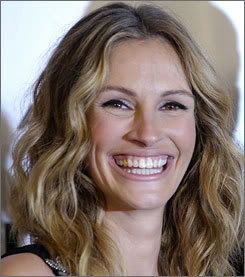 The pride of
Smyrna, Georgia
, is one of the most popular and wealthy actors in Hollywood; the 30 films in which she's appeared have grossed over $2 billion at the box office, making her well worth the reported $25 million she commands in salary.
Though she's recently taken a few years off to have a family - twins Hazel and Phinnaeus were born on my birthday* in 2004, and little Henry in June 2007 - her recent Hollywood vehicle, the
Tom Hanks
film
Charlie Wilson's War
, nabbed her a Golden Globe nomination, effectively announcing her return to the big screen. It was followed by an indie called
Fireflies in the Garden
, co-starring super-hunk
Ryan Reynolds
. In 2009 she appeared in
Duplicity
, opposite former
Gratuitous Brunette
Clive Owen
, and she's currently filming both
Valentine's Day
and
Eat, Pray, Love
for release in 2010.
All in all it's good to have her back again; I don't know what it is, but there's something reassuring about her. I know as well as anyone that a public persona isn't worth any more than the publicist who created it, but there's something genuine and honest and lovely about our Mrs. Moder (at least on screen) that makes me hope hers is a long and fruitful life - not to mention career!
*November 28th... Not that I'm dropping any hints or anything.
*
share on:
facebook