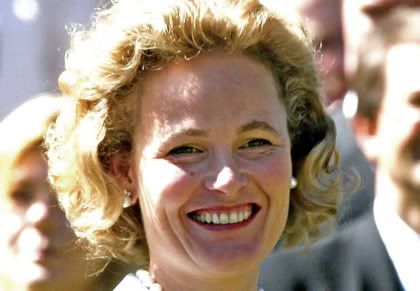 You'll be forgiven for having never heard of
Liechtenstein
's Hereditary Princess, Sophie, who today turns 43; either royalty from Catholic countries are so much better behaved than their Protestant counterparts or they're better at covering it up*. In fact, Liechtenstein's best-kept secret must be Sophie's sister-in-law,
Princess Angela
.
Nevertheless, Sophie's
wedding
- to
Hereditary Prince Alois of Liechtenstein
in July 1993 - ought to have been big time media fodder: a
beautiful church
in the picturesque capital
Vaduz
, a beaming blonde bride, and a
HPLILF
** for a groom. Clearly the
Princely Family of Liechtenstein
either has a very smart or a very stupid press secretary.
In the fullness of time Her Serene Highness will become the first lady in the land of the quaint
mittel
-European principality currently under the watchful eye of her father-in-law
Hans Adam II
and his wife
Princess Marie Aglaë
which she and her husband will, in turn, groom for their son,
Prince Joseph Wenzel
.
*
Either way, no one messes around or up quite like the good ol' House of Windsor, am I right? Where my whiteys at?
**

H

ereditary

P

rince of

L

iechtenstein

I

'd

L

ike to

F

uck.

*
share on:
facebook