So accurate are the landscapes of Canaletto that modern-day archaeologists often use them before digs; he was talented, of course, but that kind of hyper-realism only comes from the use of
camera obscura
... Whatever other techniques he used, he guarded those secrets well. I've only seen one Canaletto up close - at the
National Gallery
in Ottawa - and it looked more like a window than an oil painting to me. In fact, it was so beautiful I wished I could step into it...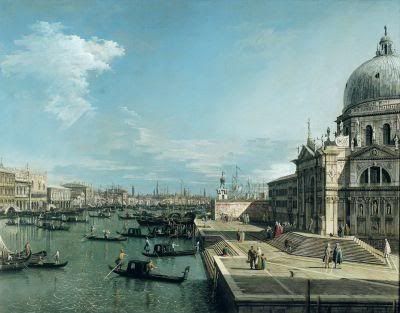 Born on this day in Venice in 1697, Giovanni Antonio Canal was the son of a painter, and so served his earliest apprenticeship alongside his father and brother; in turn, Canaletto would come to mentor his nephew
Bernardo Bellotto
as well. His father, Bernardo Canal, specialized in theatrical scenery, which could account for the reason why Canaletto's works are typically vast canvases depicting wide open spaces. Later, the gifted pupil studied in Rome, returning to Venice in 1719.
Canaletto admired the work of Roman
vedutista
Giovanni Paolo Pannini
, and later studied under
Luca Carlevaris
. Quickly he surpassed his masters, and soon his views of Venice were being snapped up by visiting nobles, especially from England; these canvases, vast as they were, became the postcards of their day. As early as the 1720s, the British consul in Venice was acting as Canaletto's broker, and many of his early works can be found adorning the stately homes of England still.
So popular were his works there that in 1746 Canaletto moved to England, where he created lush portraits of Georgian London as well as other British locales; when he finally returned to Venice in 1755 it was under something of a cloud. Given the quantity of work he produced it was inevitable that some of these later paintings would lack the elan of his earlier masterpieces; while still masterful they had become stiff and predictable, which is the side-effect of working for commissions. At one point he was forced to paint for an assembly of 'gentlemen' to prove that his work was his own, and not that of an imposter; neither the great artist's pride (nor his reputation) ever really recovered.
In 1763 Canaletto was elected to the
Venetian Academy
, and he continued to paint up until his death in 1768, sometimes from sketches, sometimes from life. Even when he was still alive the asking price for a Canaletto was high, so it seems only right that they should have held their value once he'd set down his brushes for good; in 2005, nearly 250 years after his death in April 1768, one of his paintings fetched £18.6 million at Sotheby's, which is the record price ever paid for a Canaletto, and an amount that would no doubt astound him.
*
share on:
facebook