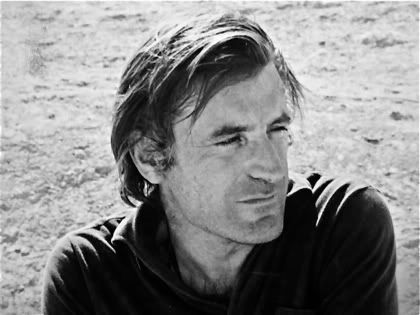 Ted Hughes' professional life took off well enough, hit a major rough patch in the middle, and by the time it glided to a halt on this day in 1998 he was not only held in the greatest official esteem but had nearly seen his personal reputation rehabilitated as well...
Born in August 1930, Hughes spent his formative years in the West Yorkshire village of
Mytholmroyd
, exploring the nearby moors more or less unimpeded; at the age of six his family moved more than 50 miles away to the industrial town of
Mexborough
, where his parents ran a newsagent and tobacconist.
While his early life had given Hughes an abiding respect for Nature, in this new setting Hughes' teachers began encouraging his nascent writing ability, and at 16 he published his first works in the school's magazine,
The Don and Dearne.
A two year hitch (1949-51) with the
National Service
at a remote listening post in East Yorkshire provided him with ample time in which to read and re-read Shakespeare while serving as a ground wireless mechanic for the RAF. Spying on the Russians seems to have had no effect on him, although his tenure there would give him the grounding in the subject he needed to later make himself a major scholar of the Bard.
While studying at
Pembroke College, Cambridge
he started a magazine with some friends, entitled the
St. Botolph's Review
; it was at a launch party for the magazine he met his future wife,
Sylvia Plath
. Their tempestuous relationship would produce two children -
Frieda Rebecca
and Nicholas Farrar - not to mention fodder enough for them and their literary heirs to postulate on the Hughes-Plath dynamic in perpetuity, and (thanks largely to Plath's
subsequent actions
) nearly enough ammunition to ruin Hughes into the bargain.
Hughes handled the fallout from Plath's February 1963 suicide in a way that seemed to encourage his enemies in demonizing him, especially as his late wife's works began to attract the attention of militant
second-wave
feminists. Whereas he could have leapt to his own defense at the time, it wasn't until Hughes published
Birthday Letters
(1998) that he began to be seen in a better light. Few if any now refer to Hughes as a murderer with regards to Plath's taking her own life like they might have done in the mid-60s.
Act Three of his extraordinary career saw Ted Hughes serve his Queen and country as
Poet Laureate
following the death of Sir
John Betjeman
(
Philip Larkin
having respectfully declined the post); shortly before his own death Hughes was awarded the
Order of Merit
, which is in the personal gift of the sovereign. Act Four, coming as it does after his death, has seen Hughes portrayed by
Daniel Craig
opposite
Gwyneth Paltrow
in the 2003
film
Sylvia
.
*
share on:
facebook