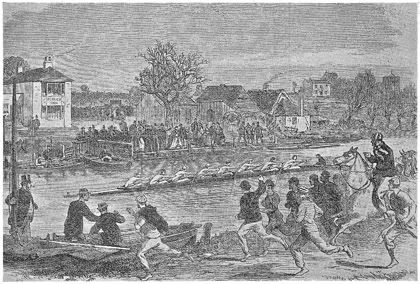 [If you're like me - and let's face it, would you be if you didn't have to be? - you like gawking at super fit college aged men clad only in revealing sporting costumes, all the while enjoying yourself a pleasant afternoon in an idyllic riverside setting... Which makes the annual Oxford and Cambridge Boat Race the ideal way to combine my hobbies (and/or pervs). The image above shows a practice run by the Cambridge team in 1866 along the River Cam, near the Plough Inn at Fen Ditton. You know the place I mean. Anyway, that year Cambridge lost to Oxford - a race which included a dramatic near-collision with a barge!]
1190
- Holy Roman Emperor
Frederick I Barbarossa
drowned in Turkey's
Saleph
river while leading an army to Jerusalem on his way to fight the
Third Crusade
.
1619
- The
Battle of Záblatí
proved a turning point in the
Bohemian Revolt
during the
Thirty Years' War
when
Karel Bonaventura Buquoy
won the day for the Holy Roman Empire, while
Ernst von Mansfeld
suffered heavily losses in personnel and a baggage train as well, following which he was forced to lift the siege of Budějovice.
1692
- During the
Salem Witch Trials
,
Bridget Bishop
was hanged at
Gallows Hill
for 'certaine Detestable Arts called Witchcraft & Sorceries'. Which, I'm sure, is what Jesus would have done...
1719
- The
Battle of Glen Shiel
proved a decisive victory for its commander Joseph Wightman and put an end to the
Jacobite Rising
, whose commander
Lord George Murray
(among others) had hoped to put the Catholic
Bonnie Prince Charlie
on the throne of England as Charles III in place of the Protestant
George I
.
1786
- A
landslide dam
on the
Dadu River
created by the Kangding Louding earthquake ten days earlier collapsed, killing 100,000 in the Chinese province
Sichuan
province as far as 1400 km upriver, making it the second deadliest landslide on record.
1805
-
Yussif Karamanli
signed a treaty ending hostilities with the United States following the
First Barbary War
; try and guess whether or not that lasted...
1829
- The first
Boat Race
between the
University of Oxford
and the
University of Cambridge
took place; annually pitting eights against each other on the
River Thames
since 1856 (and four times unofficially elsewhere during the Second World War) the brain-child of
Charles Merivale
, a student at
St John's College, Cambridge
, and his chum
Charles Wordsworth
, who was at
Christ Church, Oxford
, today the 6.8 km- (4 mile, 374 yard-) long race is attended by a quarter million spectators bankside along the
course
from
Putney
to
Mortlake
, while 7-9 million watch on telly in the UK, and more than 20 million people tune in worldwide.
1838
- At Australia's
Myall Creek Massacre
28
Aboriginals
were murdered near
Inverell
, a sheep station in New South Wales; seven of the 11 whites responsible were later found guilty, a first for Australian jurisprudence.
1886
- Following the eruption of New Zealand's
Mount Tarawera
, 153 people were killed and the country's famous
Pink and White Terraces
were destroyed.
1924
-
Fascists
kidnapped and killed Italian socialist leader
Giacomo Matteotti
in Rome, a crime which historians now believe was ordered by
Il Duce
himself,
Benito Mussolini
.
1925
- The inaugural service for the
United Church of Canada
- a union of
Presbyterian
,
Methodist
, and Congregationalist churches - was held in
Toronto Arena
.
1935
- With the assistance of
Bill Wilson
, Dr.
Robert Smith
took his last drink, thereby helping to found
Alcoholics Anonymous
.
1942
- The Nazi occupiers of Czechoslovakia burned the village of
Lidice
in reprisal for the earlier killing of
Reinhard Heydrich
as part of
Operation Anthropoid
.
1944
- 15-year old
Joe Nuxhall
of the
Cincinnati Reds
became the youngest player ever in a Major League game.
1967
- The
Six-Day War
'ended' when Israel and Syria agreed to a cease-fire... There are those, however, who feel a war cannot truly be over as long as one side continues to call for the death of all of those on the other side, in addition to all of their co-religionists throughout the world, and the total destruction of their country besides. I'm just saying, is all.
1977
-
James Earl Ray
escaped from
Brushy Mountain State Prison
in
Petros, Tennessee
; he was recaptured three days later.
1986
-
Patrick Magee
was
found guilty
of planting the
bomb
that damaged Brighton's
Grand Hotel
during a Conservative Party conference in
October 1984
, killing five.
2001
- Pope
John Paul II
canonized Lebanon's first female saint,
Rafqa
.
2003
- The
Spirit Rover
was launched, beginning
NASA
's
Mars Exploration Rover
mission; it landed successfully the following January 4th, three weeks before its twin
Opportunity
landed on the other side of the planet.
*
share on:
facebook